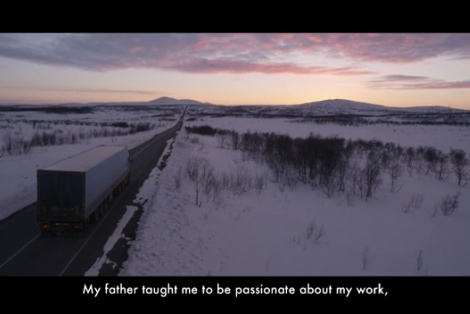 The dreams and aspirations of heavy-duty truckers and fleet managers who depend on diesel engine oil become more than substitutes for the unpleasant reality of their jobs in this emotion-laden Shell Rimula campaign by J. Walter Thompson.
The campaign for the brand of heavy-duty diesel engine oil, set to run in 17 countries, has kicked off with two films in which real truckers from China (see above) and Russia (see below) reveal their personal motivations and goals in life, and how Shell Rimula is helping to reach them. The truckers and their families are also featured in press, outdoor and in-store collateral.
The slogan "Shell Rimula, the engine oil that works as hard as you" says it all, and builds on the brand's previous global campaign in 2012 "Shell Rimula Hardworking."
Selected markets will be activating a call-to-action to invite local truckers and fleet managers to engage with the brand by submitting their own real-life stories. Key markets include USA, Canada, Turkey, Brazil, Malaysia, South Africa, South Korea, Thailand, Colombia, Pakistan, Egypt, India, Indonesia and Vietnam.
Valerie Cheng, chief creative officer at J. Walter Thompson Singapore and Global ECD for Shell Lubricants, led the work, collaborating with teams in London, Shanghai and Houston for global and local relevance. Shooting took place in China (Beijing), Russia (Moscow and Murmansk), India (Delhi) and the USA (Phoenix and Flagstaff, Arizona). Film production was led by Collider in Sydney, working with production houses in each market. Songzu, which is also based in Sydney, composed an original track for the campaign.
According to Roger Moulding, vice president of Shell Lubricants Global Marketing, "For many of our customers, trucking is the cornerstone of their life: a job that sees them work long hours, over long periods, often many kilometers away from home, but ultimately provides for their family and loved ones. Engine oil plays a vital role in keeping their trucks and business moving, yet despite this it remains a traditionally low-interest purchase."
This article first appeared on campaignasia.com.