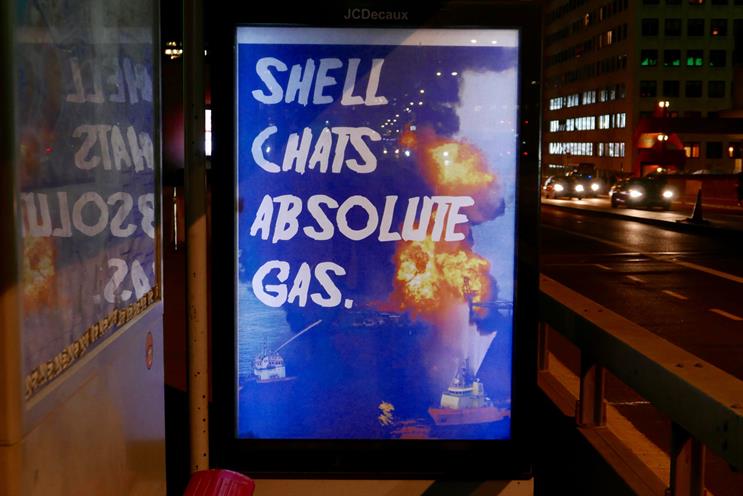 The ads were not paid for but 'self-installed' in bus shelters, so are not likely to stay up for long, although Brandalism has taken several pictures of them in situ. The stunt was timed before Shell's Make The Future Live festival, which starts on 5 July at the Queen Elizabeth Olympic Park and is aimed to appeal to millennial audiences.
The mocking ads are meant to "highlight the hypocrisy of Shell's recent PR campaigns" which promote the company's sustainability credentials, according to Brandalism.
In London, the group claimed a number of these ads have been posted outside Shell headquarters as well as the National Theatre, a cultural institution that has an ongoing corporate partnership with the company.
Some of the artworks across the four cities feature images of acts who have participated in Shell's #MakeTheFuture initiative, such as Pixie Lott, Jennifer Hudson, Luan Santana, Tan WeiWei, Yemi Alade and Stever Aokim. The stars' faces are masked with a Shell logo and the ads carry the message "Don't fall for Pop Star PR."

The ads were created by the artists Spelling Mistakes Costs Lives, Bill Posters, Billy Fisher, Phire, Billy Bindley & Tommy Gooch.
"Each year, Shell spends millions trying to convince us that it's a progressive, ethical company. But we're not buying it," Janette Watkins from London, said. She added that, in her opinion, any investment Shell makes in renewable energy is dwarfed by the billions they continue to spend extracting and burning as much oil and gas as possible.
"As one of the artworks states Shell is 'chatting gas' about being a green company and young people won't be fooled by their latest slick PR campaign," said Watkins.
These ads are part of a larger effort by more than twenty UK-based organisations, including Brandalism, members of the Art Not Oil Coalition and several local fossil fuel divestment groups, aimed at protesting and disrupting Shell's Make The Future event.
So far, this group has created a spoof Facebook event page and promises a series of creative and disruptive actions during the four days of the festival culminating with a "The People vs.Shell" dodgeball game outside the Make The Future event.
When approached for comment, a Shell spokeswoman said: "We want to work to help solve the world's energy challenges, and that includes working with those who disagree with us. We will always be open to and indeed welcome honest and constructive discussion and debate."