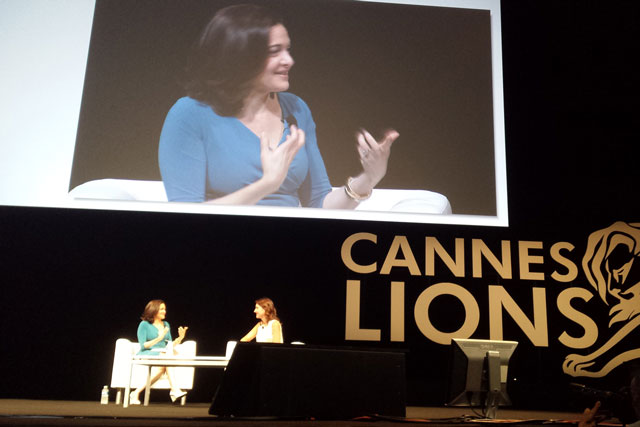 "We are decades away from having half this audience made up of women as only 3% of creative directors are women," she said.
Sandberg believes that by changing the way the industry thinks about marketing to women, then cultural change will follow.
Want more from Cannes? Visit the international live blog powered by Campaign
"Any boy or any girl should believe they can do anything because they have seen it [in marketing].
"We are three decades past women getting 50% of college degrees but still men have 94% of top CEO jobs."
Boys vs. Bossy
She added: "This is a cultural problem. We don't expect women to be leaders. By the time they are in junior high, more boys want to lead. Bossy is used four times more for girls than for boys."
Sandberg called on the audience to help "ban bossy".
"So the next time you hear someone say to a little girl that she is bossy, even if it's a parent, go over and say, 'that little girl is not bossy; that little girl has executive leadership skills'.
"That phrase is funny, but what's interesting is that when you say it about a little boy there is no humour."
Zuckerberg and the Big 3-0
Sandberg also revealed that she threw an office party for Mark Zuckerberg's 30th birthday this year.
"Thank god our boss is 30. I gave out cupcakes to celebrate. Many people at Facebook were very happy to celebrate his 30th - others just wanted a cupcake."
Zuckerberg might not be talkative but he's a great listener, she added.
"At his core, he's an optimist and believes in the power of individuals. Mark had said, 'people will do great things if you give them the technology'. It's a remarkable thing to be close to."