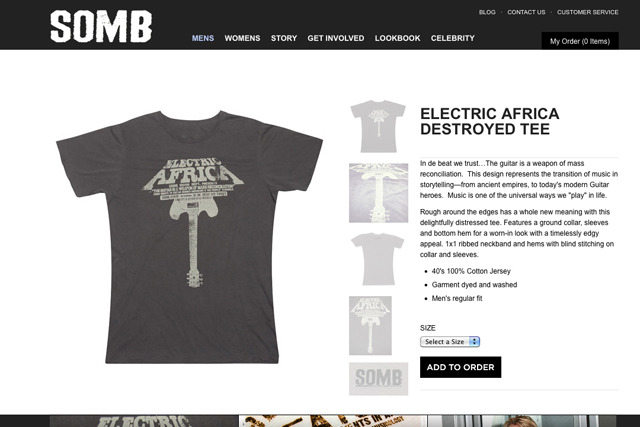 One in nine of the world's children does not have access to a basic education. In many developing countries, the lack of a school uniform can be the only thing that prevents a child from going to school. In a drive to combat this, the charity and fashion brand SOMB (Shirt Off My Back, pictured) donates a school uniform to a child for every garment it sells.
SOMB is one of a new breed of companies creating products with the aim of making the world a better place; seeking not to create bigger, better, more profitable products, but products that meet more meaningful goals.
The mantra that bigger is better has long since lost its cachet. Generation Y has become tired of the endless quest to buy a growing number of bigger and more expensive products; to upscale every part of their lives. This shift presents a big challenge for brands that are struggling to accept that traditional status symbols have lost the 'it' factor.
While the rise of Corporate Social Responsibility has been embraced by many, the need to provide consumers with more meaning has yet to be embraced by many mainstream brands.
According to the Meaningful Brand Index survey of 50,000 consumers globally, only 20% of brands are perceived to have a notable positive impact on consumers' sense of well-being and quality of life. In the UK, only 5% of brands are seen to make a difference, and most people would not care if 91% of brands didn't exist.
In the world of marketing, charitable giving and CSR has fast become a fundamental part of the job. Being involved actively in non-profit organisations and charitable funds is now essential.
Those brands that inspire social change by focusing on doing good - on top of doing well - will thrive in this new, meaningful, ecosystem.
THE UPSHOT
From status to substance
The mantra that you can never be too rich or too successful is being fundamentally challenged by Generation Y. In the wake of the financial crisis, the humiliation of the world's biggest banking brands has fundamentally shifted the status ecosystem. Consumers are seeking to purchase brands that show how much they care, not prove how much they earn.
From ownership to engagement
The increasing focus on the experience economy, rather than consumers simply seeking products to own, has changed the rules of marketing irrevocably. As Burberry's game-changing 'Art of the trench' campaign proved, enabling consumers to co-opt, interact and share with your brand has replaced the traditional model of elusive exclusivity.
A new definition of success
In Why It's Kicking off Everywhere, author Paul Mason argues that the global financial crisis has spawned a generation of young people for whom their projected life-arc has suddenly switched from an assured upward trajectory to a downward one. The promise that, financially, they will be better off than their parents no longer rings true. As a result, Generation Y is embracing new measures of success, meaning and self-expression.
@nickykc
Follow @nickykc