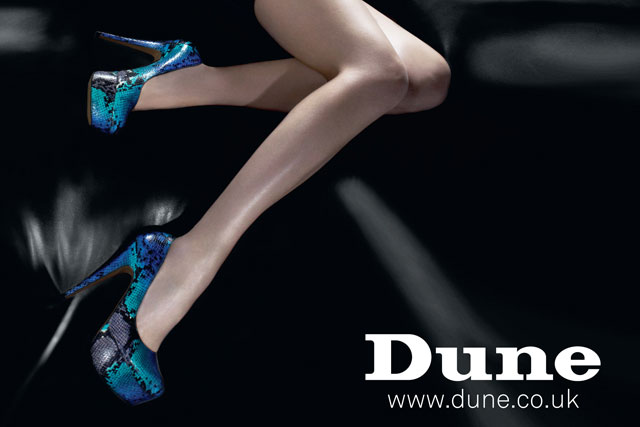 The activity will include full- and double-page display ads that will run from now until October in fashion titles including Grazia, Marie Clare, Elle, Vogue and Stylist. It will also include a bespoke four-page fashion feature shoot in Grazia and a four-page pullout special in Stylist.
Rachael Slaney, head of marketing for The Dune Group, said: "We are excited to announce the launch of our first print advertising campaign in the UK. With such a fantastic autumn/winter collection just about to hit the stores, we also felt that this was the perfect time to really showcase Dune as the luxurious, fashion-forward footwear and accessories brand that it truly is.
"The fashion and accessory market is extremely competitive and cluttered, so the right media-buying placement by the7stars makes sure we stand out from the crowd and are noticed by the right people at the right time. We've got a campaign that is as big, bold, beautiful and creative as our shoes."
The creative for the campaign was produced in-house by Dune and specials were produced by the titles themselves.
Rachel Eagles, head of magazines at the7stars, said: "It's fantastic that a brand like Dune is starting to advertise again. Magazine readers are used to reading about Dune products, so it's great that the advertising is backing this up with a showcase of the gorgeous autumn/winter product range.
"We wanted to make sure [the campaign] looked and felt amazing and, above all, created the impact this well-loved brand deserves."
Dune will open four new stores across the UK over the next three months.
The7stars was appointed to the Dune media planning and buying account in May.