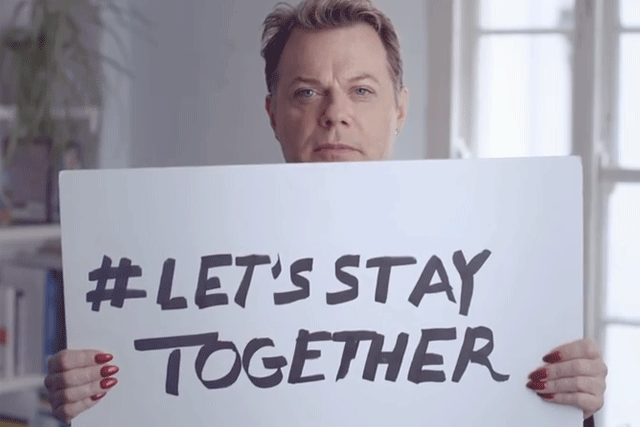 Somebody had to do it. It had to be done. I looked around and saw tumbleweed, heard silence, felt chill. There was no bandwagon. Not even a horse and cart in this post-apocalyptic scene, though you could drive one through some of the arguments.
This is potentially the biggest constitutional change in our 300-year history. If Scotland becomes a separate country, I feel we are all diminished – this despite a visceral appreciation of any impetus for "independence" and a respect for Scots' right to choose this for themselves.
Our shared history is written off. A shared future becomes a costly negotiation and our common culture retreats to the four corners. Yet we were being told to "mind your own business", and we were complying.
Semantically saddled with the "no" word, any attempts to address practical concerns or contrary facts in Scotland were being silenced as negative campaigning, and an emotional appeal for the "status quo" is after all hard to make to Scots just as fed up with Westminster as many across the UK.
The campaign to keep Britain together needed reinforcements.
Also, while the main yes and no campaigns battled it out on Scottish turf and our most persuasive writers and journalists waxed beautifully on both sides of the argument, the millions of muttered conversations and private consternations of the non-voting British public had no outlet and made no noise. There was no organisation that represented them.
It had to be me. Last woman standing. Crazy enough to care enough to corral adland's finest and create a campaign. Yikes.
Luckily as the smoke cleared, I saw Andrew McGuinness, similarly impassioned and with a motley and motivated crew of willing campaigners. We joined forces just a few weeks ago to make something happen. A battlefield scene worthy of Mad Max is exactly what we have let ourselves in for.
The purpose of the campaign was clear – to give a voice to people who don't have a vote in the decision to break up Britain. So it would engage people in England, Ireland and Wales, including the 800,000 expat Scots who live there, and hopefully would be loud enough to be heard and bright enough to be seen in Scotland.
Luckily there's the internet for that. Doubly so since we didn't have any money for "advertising" – though the people who gave up their spare time to do this did not blink at the distinction and approached the brief with relish.
Then there was the great Bowie/Moss intervention, when Kate Moss collected a Brit Award on behalf of David Bowie and delivered his message: "Scotland stay with us." It was the sort of thing that all the money in the world can't buy and made it clear there was an appetite for sending out a "love bomb" as [Adam & Eve/DDB chief executive] James Murphy has always called it, for a Britain with Scotland in it. This was how people really felt.
The tone of the campaign across all platforms would be relentlessly positive and shamelessly emotional. There were plenty of other places for people to engage in arguments.
We felt, though, that the campaign was bigger than just a "please don't go" message to Scotland. We wanted it to be rallying cry for all of us. Let's Stay Together worked perfectly.
In my creative brief I cautioned, "Avoid maps and flags". Sensibly they ignored this and Gary Glozier at Th_nk in Newcastle came up with our brilliant logo, which I think communicates perfectly.
We worked on building a very simple microsite (harder than it looks) that would ask people to sign up to a short statement of support. It's at www.letsstaytogether.org.uk
Next we engaged the wonderful Mark Lucas of Silverfish, also exercised about the issue, and whom we had both worked with before. Mark makes the most uplifting campaigning films for a range of organisations and issues.
He and his colleague Nathan Long did a brilliant job of artfully directing and editing an uplifting pair of films shot all around Britain with some brave, sincere celebrities and lots of uncelebrated "real" people.
The campaign launched last week and has already made a huge impact on the national conversation around the issue.
The reaction has been overwhelmingly positive, with many relieved to have a way to join in without standing out.
Our challenges in the meantime are money, morale and momentum. With no time to do a proper grassroots funding campaign we simply asked friends of friends with some money, conviction and an unmet desire to do something. This is a pay as you go campaign. Please send money. Every little helps etc.
Dealing with the few but loud and apparently systematic negative comments on social media is also a soul sapping business and would try the patience of a saint.
Which none of us are. Please support us on Facebook and Twitter, whenever you can before one of us explodes.
Momentum depends on the first two but we have more exciting campaign contributions in the works and ready to go in the next few weeks. Meanwhile, back to the trenches. Now where's that tin hat and flak jacket again?
See tomorrow's mag for reviews of the Scottish election campaigns work.