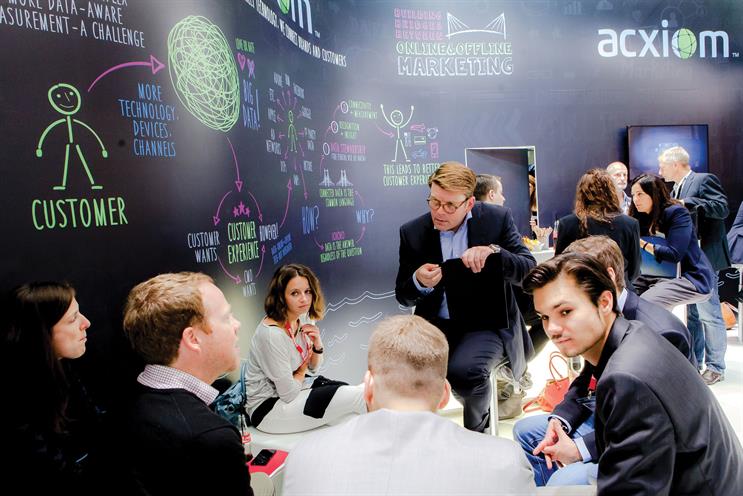 feature brought to you by Acxiom
There's a lot more to it than planes taking off and landing. Starting from these very basic pieces of information, Heathrow Airport is improving passengers' experiences – and driving revenue for itself and its retailers.
Thanks to the marketing technology and data specialist Acxiom, Simon Chatfield, the head of e-business and CRM at Heathrow, revealed all to a packed audience at the Dmexco conference in Cologne. He explained how the airport connects a rich soup of data into tangible marketing.
Chatfield began by illustrating that with vast data comes vast challenges – and the need for a clear strategy: "Heathrow is a data-rich environment – scans of passports, boarding cards and so on – but, as a marketer, I sadly cannot access this information to offer you a great customer experience. So how do we build up a picture of this itinerant passenger base from data sources available to us and then act on it?"
What followed was a masterclass in how to pull in data and then use it to improve customer experience – and increase revenue.
Chatfield set out the challenges he faces: "Here are some of the data sources we do have available: Heathrow.com, our app, our Wi-Fi, our retailers, our airlines. Then there's advertising data and websites that link into our website. We need to knit these together."
Heathrow brought together technologies from Acxiom, Adobe and others to try to develop a way of reaching "more passengers in a more relevant way".
Reaping the rewards
One tent-pole solution was a simple loyalty card, the Heathrow Rewards scheme – and the growth was marked. Chatfield said: "It overcomes the problems of multiple eco-systems – one for car-parking, one for shopping, one for trains – as you are transacting with the card.
"We are now able to send out very bespoke e-mail based on previous interactions – it's more than gender- or terminal-specific. We're trying to let people feel we recognise them and we can listen to their feedback." Heathrow rewards its frequent passengers and wants to show a familiar, friendly face, even if this is through a smartphone.
Chatfield said: "We've found our passengers spend more if they're members of the Rewards programme – and the more we do with the programme, the better member satisfaction scores we see. You have to remember that retail and dining is a core factor in passenger experience. And we're improving their experience." He added that the growth in spend between non-members and members was a particularly exciting metric.
And everyone needs to stay plugged in nowadays: "Free Wi-Fi is extremely important to our passengers and it has been a key opportunity for us too – 35,000 people log in per day; we're able to know when people are passing through the terminal and trigger communications with them. And the free Wi-Fi itself was a great improvement for customer experience. It gave us a fabulous lift and commercial benefits follow."
Customer satisfaction is central to Heathrow's operation and this improves with the more personalisation the airport can offer. Wi-Fi data reveals time and precise location, which open up the possibility of hyper-local message targeting. Integrated with existing capabilities such as automated number-plate recognition within the airport's car-parks and the opportunities for timeliness and relevancy are exciting.
Chatfield said: "We are able to put specific offers directly in front of you and recognise patterns of passengers' behaviour, to help give real-time information or support as well as commercial messages.
"We can reassure passengers that we know they are here, and we can help. It can be extremely effective commercially too – we typically see a 75 per cent increase in display advertising engagement when combined with location data."
Heathrow Rewards in numbers
15m Number of members. Largest airport loyalty programme in the world
16% Year-on-year growth in revenue per person

34% Year-on-year growth in member redemption rate
25 Return on marketing investment
11% Members rated their 2014 shopping/dining experience good/excellent higher than non-members (versus 2% higher in 2013)
A real value exchange
Acxiom's involvement is central to building a better customer experience both today and going forward. Chatfield explained: "Our plan is to pioneer the LiveRamp onboarding product from Acxiom. As an example, many of our famous brand retailers also have loyalty schemes – imagine how they would benefit if we combine data anonymously and recognise their best customers when they enter the terminal to communicate with them or provide more personalised in-store service."
Heathrow is awash with data but the most valuable and sensitive is carefully guarded. Yet, through clever use of available data and offering a real value exchange, Heathrow is greatly improving customer experience and, by extension, its retail offering. Chatfield concluded: "We are getting over the problems of not having that view of the customer."
The customer data kings
Acxiom's European marketing director, Jed Mole, introduced the discussion by explaining why the Heathrow story is so important to Acxiom: "Acxiom connects technology and data. This story uses data and technology to deliver a better connected experience. All of that cool stuff makes a difference to the customer, which ultimately makes a difference to a brand."
Find out more about Acxiom by visiting www.acxiom.co.uk