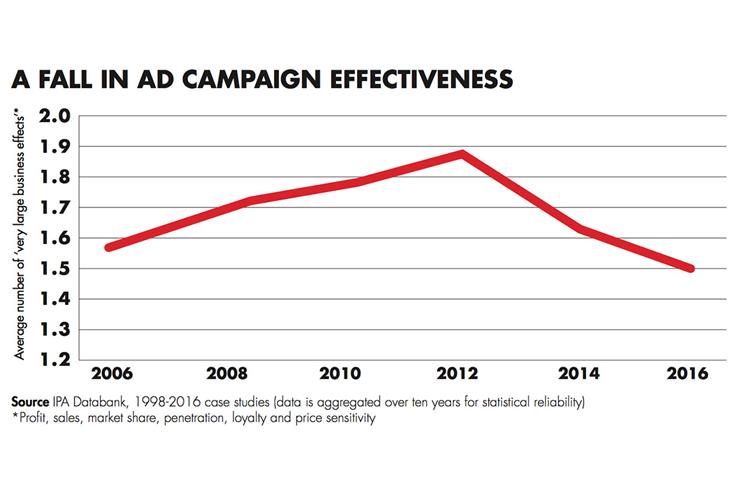 In their report, Les Binet and Peter Field noted that a rise in the number of short-term campaigns since the global financial crisis began a decade ago has contributed to a decline in overall advertising effectiveness in recent years. Even campaigns regarded by the IPA as "best-in-class" have been losing potency, the study found.
The IPA evaluated the campaigns in terms of the effect they had on the brand's profit, sales, market share, penetration, loyalty and price sensitivity (see table below). Of these measures, the two that have most strongly declined since 2012 are market share and penetration.
These findings correlate with a rise in the proportion of short-term campaigns (those that ran for fewer than six months) from an average of 8% to about 25% in the past decade.
The report is "enlightening and worrying", Matt Hill, research and planning director at Thinkbox, said. "There is much in this analysis to get to grips with: the importance of mass media; the worrying effects of a creeping short-termism that is damaging overall advertising effectiveness; the fact advertising does not come for free."
Hill referred to several marketing trends identified in the report that are encouraged by short-term metrics but at odds with long-term marketing effectiveness. Chief among these is the tendency to focus marketing budgets on tight targeting, unpaid media and activation.
Binet and Field also found that mass media contributes to long-term effectiveness and efficiency but spend is being undermined by a belief by marketers that mass marketing is inefficient.
There is a need for brands to "grasp the effectiveness measurement nettle", Jessica Salmon, head of insight at O2, added. "That must include addressing long-term brand health as well as real-time performance."