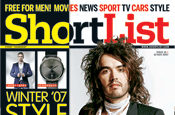 Jo Fraser, the advertising director, and Tom Bailey, the associate publisher, have been made redundant. Both had been with the magazine since its launch in September last year.
Fraser, a former Emap advertising director, oversaw Shortlist's commercial teams, while Bailey, previously the ad manager at Wallpaper* magazine, had responsibility for liaising with fashion and luxury brands.
The title had an encouraging set of results in the Audit Bureau of Circulations figures for July to December 2007, falling just shy of its initial 500,000 circulation target at 462,731 copies. The figures made it the 30th-biggest magazine title and the biggest- circulation lifestyle magazine in Britain.
The magazine is aimed at the quality men's market and is handed out each Friday.