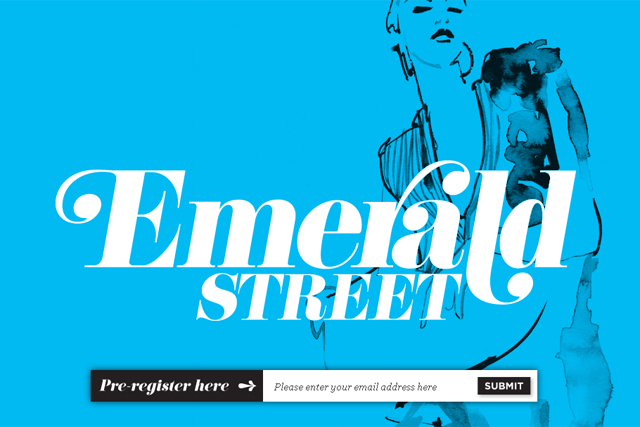 "The essential daily update for stylish, professional women" will offer style news and features on subjects such as art, culture, careers and literature.
Emerald Street will debut in the second half of April with a nationwide reach and relevance. The exact date of launch is yet to be confirmed.
Each day's email has the space to run a solus advertiser with display copy. Mike Soutar, ShortList Media's chief executive, said: "Our ambitious goal is to achieve 100,000 registered users by the end of summer."
The daily will arrive in subscribers' in-boxes from Monday to Friday and will be created by the journalists and editors of Stylist.
Users are able to pre-register ahead of the launch date at www.emeraldstreet.com, where, in future, articles will be archived. Readers will also be driven to the site from Stylist's Facebook page.
Users in London, Manchester, Leeds, Birmingham, and Glasgow and Edinburgh will be given the additional option to opt-in for a weekly guide, delivered every Thursday, showcasing the "cool, interesting and relevant events for urban, stylish professional people near them", said Soutar.
The digital brand, which has been in research for six months, has been named after the company's address in Bloomsbury.
Anna Fielding is the editor of Emerald Street while Olivia Smith, InStyle ad manager, has been named associate publisher. The service will be marketed through the pages of Stylist and stylist.co.uk in the coming weeks.
Glenda Marchant, Stylist's publisher, said: "Emerald Street presents advertisers with an inspiring, upmarket environment through which to reach a specific ABC1 female audience, on a specific day.
"It is like having a beautiful page of editorial in your inbox with a solus advertising opportunity, making it stand out from other digital advertising channels. It is unique."
Tim Ewington, ShortList Media co-founder, who has led the project from the start, said: "Email is a medium with which young women spend more time than even television during the working week.
"Delivered direct to each subscriber's inbox, Emerald Street is designed to work on her PC, laptop, smartphone or tablet."
Last week ShortList Media unveiled its new bi-annual men's fashion magazine ShortList Mode.