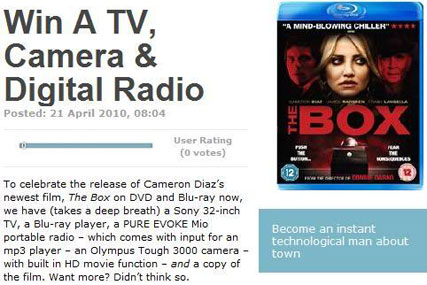 Copy for the competition, which appeared online stated that participants could "Win A TV, Camera & Digital Radio To celebrate the release of the The Box on DVD and Blu-ray now, we have (takes a deep breath) a Sony 32-inch TV, a Blu-ray player, a Pure Evoke Mio portable radio – which comes with input for an mp3 player – an Olympus Tough 3000 camera" along with the copy of the film.
However, reference to the Sony television was not made in a separate print version of the competition carried in ShortList.
The competition received a single complaint from the winner of the competition who challenged whether the competition was misleading because she was subsequently told that the television and Blu-Ray player would not be part of the prize package.
In reply, ShortList Media, the publishers of the title, said there was a print version and an online version of the competition. It explained that the print version did not state that a TV would be a part of the prize.
ShortList said it originally intended to place a larger print ad, warranting a higher value prize, and agreed with the agency supplying the prize to include a TV. However, because the size of the ad changed, ShortList believed the ad required a lower value prize and decided to remove the TV.
The publisher explained that, due to an administrative error, the incorrect version of the competition, including references to the TV as part of the prize, appeared in the online ad.
On receiving correspondence from the winner about the TV, ShortList contacted the agency who said they were unable to provide them with the TV. ShortList said it too did not have the budget to supply the prize.
ShortList argued their terms and conditions stated that they would not be liable for the provision of the prize and that, as the promoter, they had the right to alter prizes as they saw fit. They apologised for any inconvenience the administrative error caused.
The ASA noted that the complainant responded to the online version of the competition that stated a Blu-ray player and a TV were included in the prize.
The regulator said that although an incorrect version of the competition had appeared online, it nonetheless considered that the ad had "inaccurately described the prize" that would be awarded.
It was concerned that ShortList had not provided the winner with an alternative prize to that stated in the ad and considered the terms and conditions of the promotion did not absolve them of their responsibilities under the Cap Code.
The ASA, said: "We concluded that the promotion had not been administered fairly and caused unnecessary disappointment to the winner and therefore breached the Code."
In conclusion, the ASA upheld the complaint and reminded ShortList of its responsibility to administer sales promotions fairly and ensure that "future promotions accurately described the prizes that would be awarded".