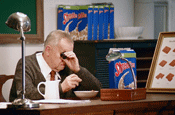 The factory is a hub of activity as the nanas frantically "knit" the cereal insisting that every Shreddie needs "nana's touch".
We are then introduced to Charles, head of quality control (and office stud) who is in charge of making sure every Shreddie is up to his exacting standards.
The factory falls silent as he pours the milk and samples the cereal.
When he gives it the thumbs up there is jubilation and the nanas continue with their work.
The campaign breaks this week and is supported by press, outdoor as well as driving fans to the microsite knittedbynanas.com.
Honey ad:
Coco ad:
Frosted ad: