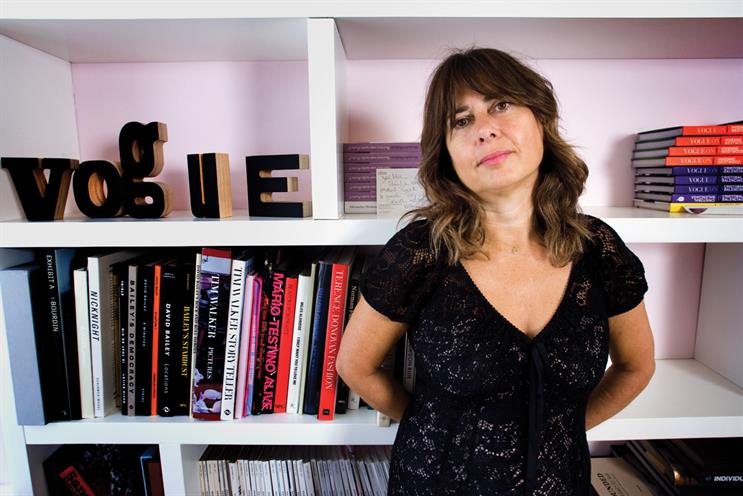 Alexandra Shulman brushes the hair out of her eyes and looks into the camera. The woman who has arranged for fashion's top photographers to shoot some of the world's most glamorous women – from Kate Moss to Victoria Beckham – is the one in front of the lens today.

She takes to the Campaign shoot like a consummate professional, careful to point out that her hair "naturally sits over my eyes; it's just how my hair is". Shulman is wearing a black lace Dolce & Gabbana dress and Christian Louboutin sandals, while one of her wrists is adorned with bangles that hint at a sentimental side.

"These bracelets have been on my wrists since I was about 20," the 56-year-old says. She never takes them off in case they get lost: "This one is just some crappy Camden Market bracelet that was on my wrist when I was at Sussex [the university she left in 1979]. A boyfriend gave it to me."

Shulman has been at the helm of Vogue since 1992. While other titles have faced steep declines in circulation since the downturn of 2008, Vogue – which launched in Britain in 1916 in the midst of war – has held up well. Its ABC figure for July-December 2013 was 201,000, down from 220,000 for the same period in 2008, but far more robust than the wider market.

The September issue, inspired by London Fashion Week, will be the biggest in the magazine's history, with more than 460 pages, including 260 pages of ads. Vogue is on its way to publishing 1,900 display ad pages this year – the most since 2008, when it had 2,300 pages. Ad revenue is up 7.3 per cent on last year.

So how has the editor managed to keep Vogue at the top of its game – and herself in charge of it – for so long? "I don't know. You would have to ask my boss," she says coyly, adding: "Luck."

Self-deprecating, maybe, but being down to earth in the era of Anna Wintour has not be a smooth ride.

After she became the editor of Vogue 22 years ago, Shulman ran an edition dedicated to "cash and trash" and the high street. "The industry was just going: 'Oh, she's ruining Vogue, she's taking it downmarket.' And 22 years on, they may be still saying it," she says mischievously. But this doesn't worry her. "They've got used to me. I'm the devil they know.

"I think that Vogue itself and the idea of Vogue are as a kind of luxurious object that people treat themselves to. It is a view into a world that people are intrigued by and, in many ways, let's them see something slightly other than their daily lives."

The magazine spends heavily to maintain its high production values, with top-quality paper and beautiful binding, and featuring the best photography, models and clothes. "The fashion shoots are really works of art," Shulman says.

She has been instrumental in broadening the appeal of the magazine, which is said to be read by women aged from 16 to 80, while serving a core of industry fashionistas, for whom it is a must-read. You can see how the hard-core fashion crowd might have clasped their cheeks worrying about its direction.

One move was the launch of Miss Vogue in 2013, attached to the magazine twice a year. This attracts teenage readers, and is bought by both mothers and daughters alike.
I think Vogue itself and the idea of Vogue are as a kind of luxurious object that people treat themselves to
Then there is the Vogue Festival, which is in its third year and is a hit with the fashion industry, Shulman says, as it wants opportunities to get closer to the public. And, in September, Vogue will host its sixth annual Fashion Night Out in Oxford Street and Regent Street – a "celebration of shopping and style".

A pressing matter for Shulman right now is the brand's digital presence. Its website attracts 1.9 million unique users (according to Google Analytics figures for April-June) and ad revenue for the site is up 50 per cent year on year. Vogue also has two million Facebook "likes" and nearly as many followers on Twitter.

The iPad edition, which was launched in 2010, gets about 10,000 downloads a month and a digital interactive edition is to be unveiled on mobile this autumn.

Shulman recognises the importance of digital, though concedes there is a delicate balance that has to be struck between featuring "click bait" and retaining the brand's high-end values: "There are personalities who drive huge traffic online, but that doesn't mean people will buy the mag. Somebody like Rihanna or Miranda Kerr is hugely popular with our online audience, but doesn't bring the same degree of engagement as somebody in the magazine."

A big question is how luxury and fashion brands will adapt to advertising in the digital world while maintaining their core brand values. Shulman says they are unsure of how people will consider their online ads, which are "a tiny drop in that huge ocean".

"What I've been struck by is how much chat there is about the future being online, then actually how little money there is following that chat," she says, voicing the concerns of many of her fellow publishers today.