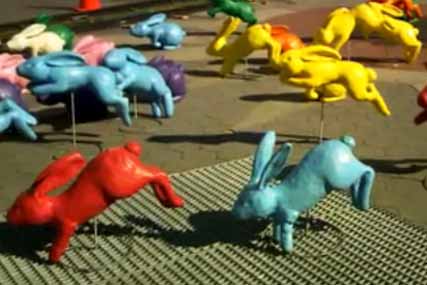 Those brands who are said to have been "inspired" by Sigur Rós include white goods firm Amica (Svefn-g-englar), Sony Bravia (Sæglópur), HSBC (Hoppípolla), Centre Parcs (Hoppípolla) and Orange (Svefn-g-englar).
The band's blog said that while it has said yes to its music being used in movies, including 'Vanilla Sky', it has spent "the decade since they were thrust into the spotlight saying 'no' to their music being used in advertising" and "have never allowed their music to be used to sell anything" despite constant requests.
In the past, the band said, they have rejected a request only to discover, a few months later, an ad with a strangely familiar soundtrack.
Here's a typical exchange that was sent to the band in 2008.
Hi XXXX,
Hope you're well.
I know that Sigur Rós aren't generally up for having tracks used in advertising, but we're currently working on an ad that I didn't want to dismiss without first running it past you. It's a commercial for Audi's Quattro system (please see the attached script). Audi's advertising is generally considered to be among the best car advertising and the script looks like it could be quite good.
Please let me know what you think. If you have any questions please give me a call.
Thanks,
XXXXXX
The band is keen to point out that it is not suggesting anyone's ripping anyone off or has purposely gone out to plagiarise their music, despite some striking similarities in terms of "general musical style, instrumentation and structure" and soundtracks "created with a knowledge of and/or reference to the works of Sigur Rós in general and 'Hoppipolla' in particular".
The band, on its blog, wrote: "What we wanted to do here was post a series of ads that have made us go 'hmmm' and let you decide who's zooming who?
"But quite often when you go back and look for them you find the ads in question have disappeared off the radar (come in Coca-Cola Mexico, New Zealand Lotto, Telmex Chile, etc). Anyway, here's a few expensively produced, gorgeously executed examples of brands who you might feel are inserting a little too much fromage in their homage."