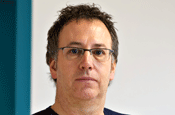 The hiring will be the first top level appointment made by the SS F Group chief executive, Robert Senior, since he was handed responsibility for Saatchis and Fallon under the new group structure in July.
Silburn has been freelancing as a creative director at Rainey Kelly Campbell Roalfe/Y&R since he left Fallon Minneapolis in January 2006.
His brief at Saatchis is understood to be to raise the creative bar at the agency. He will assume an equal footing with Stanners, who has led the creative department at Charlotte Street since defecting from boymeetsgirlS&J in November 2004.
A copywriter by trade, Silburn began his career Simons Palmer Denton Clemmow Johnson in 1992, partnering Tiger Savage and working on Nike, before jumping ship to Bartle Bogle Hegarty in 1994. He later spent four years at Lowe Lintas, where he partnered Vince Squibb and worked on the Stella Artois account, among others, before joining Leo Burnett as a creative director in March 2000, and creating the award-winning "bear" spot for John West Salmon.
After stints at Leith London and TBWA\London, Silburn was poached to run the Fallon Minneapolis creative department in February 2005. However, he was fired 11 months later by the agency founder, Pat Fallon, who blamed a lack of "progress" and a need for change for the move.
His appointment at Saatchis leaves just one top-level vacancy at the agency. Senior is still understood to be on the hunt for a managing director to take day-to-day control of the shop, although sources suggest further management changes could follow.
The Publicis Groupe decision to align Fallon and Saatchi under a group structure was made to bolster Fallon's struggling US brand and add creative flair to the Saatchi UK offering.
Neither Robert Senior, Kate Stanners nor Paul Silburn was available for comment.