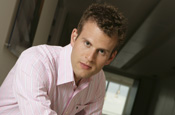 For an investment group that only became involved in radio less than a year ago, with the acquisition of Chrysalis Radio, to be now entrusted with the role of the radio sector's mover and shaker is remarkable, more so when you consider that only one of the executive triumvirate behind Global has any experience of radio.

That person is Richard Park, popularly known as the headmaster from the BBC's Fame Academy, but also a former programming chief at Capital and Emap. The other two are ex-ITV boss Charles Allen and Global's 30-year-old chief executive Ashley Tabor, who, so far, has assiduously shunned the media spotlight.

Global's shareholders, through an offshore trust, include Irish racing magnates John Magnier and JP McManus, as well as Michael Tabor, another racing enthusiast and father of Ashley. Irish financier Dermot Desmond, who sold London City Airport for £750m in October 2006, is also understood to have a stake in the business.

Deep pockets
Global has deep pockets and ready money. The £375m takeover will be financed with an £84m loan from HBOS and Bank of Ireland; Tabor et al will provide the rest.

One City analyst commented: "The deal was originally talked about as being backed one-third by the banks and two-thirds by private equity; it looks now more like one quarter to three quarters.

"That suggests the consortium had to, and were able to, dig deeper into their pockets. This is an unusual consortium with some very rich individuals behind it and very good access to capital."

In last year's Sunday Times Rich List, the wealth of Michael Tabor, Magnier, McManus and Desmond was valued at £620m, £723m, £561m and £1.4bn respectively.

Magnier and McManus, who were famously shareholders in Manchester United before capitalising on an opportunity to turn a fast buck when they sold out to the American Malcolm Glazer, are not renowned as long-term investors. However, the consensus view among analysts is that Global is in radio for the long-term, certainly three to five years minimum.

But what of Global's management team? Chief executive Ashley Tabor is likely to lead the merged group, particularly if, as is expected, GCap chief executive Fru Hazlitt and chairman Richard Eyre leave when the deal is completed.

Tabor's background is as a talent agent, having launched the careers of pop stars Corinne Bailey Rae and Chico, but he is passionate about radio. He left school at 16 to become an unpaid runner at Capital Radio. But, as a radio company chief executive, he is an unknown quantity.

Entertainment agent Jonathan Shallit, the man who discovered Charlotte Church and who has worked with Tabor in the past, describes him as "very modest, gentle, thoughtful, intelligent and well-read", as well as hard-working: "Global was Ashley's vision, he's had it for two or three years. His genius was putting together a brilliant team with Park and Allen."

It is uncertain how much of an operational role Allen will have, with most believing he will stay behind the scenes. Park, the acclaimed programming guru who enjoyed success with Capital Radio before going on to develop Magic as London's leading station for Emap, is thought to be eager to work his magic once again, but not as over-arching leader.

Looming conflict
"Park is experienced on the content side. He's quite a maverick, will take a risk and shoots from the hip," says a senior agency source.

However, he points to a potential looming conflict between Park and his son, Paul Jackson, Capital Radio's managing director: "He has a reasonably fractious relationship with his son - there's a lot of ego there."

Some believe Global badly needs more radio and company management experience on its board. One senior radio source dismisses the young Tabor as "an overnight jock with a rich father". Another senior agency source says he is concerned that Tabor lacks the experience and leadership of someone such as Hazlitt.

Global might, he suggests, be forced to bring in expertise from outside - Nathalie Schwarz, a former Capital board director who recently led Channel 4's foray into radio, is a candidate, he adds. "Perhaps they are priming Ashley to take the helm. But there is a question mark over his experience in radio and he has a lot of other interests. For instance, he still represents [the singer] Shayne Ward, and Global needs strong management."

Yet, having spent so long putting together his dream radio deal, you can expect that Tabor will still end up calling the shots, no matter who is chief executive.