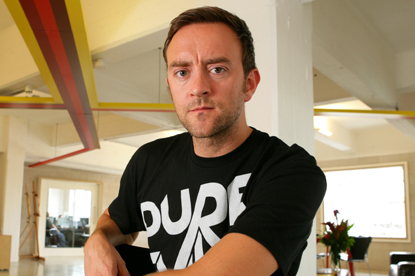 Waterfall will wind down his day-to-day responsibilities as a creative director on specific accounts over the coming months. He plans to take some time off before working out his future plans.

Founders Iain Tait and Nicolas Roope will now work as joint creative directors across Poke's portfolio of clients.

Waterfall said: "Poke will always be an amazing place to challenge yourself. It's a company that at its heart, has an internal desire to 'make it better', think in new ways and push every brief and expectation. I cherish this spirit and feel now is the time for me personally to challenge myself again, use some of my different skills from the range of creative disciplines and make myself sweat a bit. I don't know what or where, but I know I have the energy to carry on Poke's attitude to different arenas."

Waterfall started his career by founding design company Deepend which folded in 2001, before starting Poke.

Peter Beech, the managing partner of Poke, said: "Simon's a unique personality and we totally understand his desire to go beyond the digital space for fresh challenges. Simon immersed himself in D&AD, and we could see that he was straining to move on, so this is really a formalising of that arrangement. We love him dearly, we thank him for what he's contributed to Poke and we wish him the very best for the future."