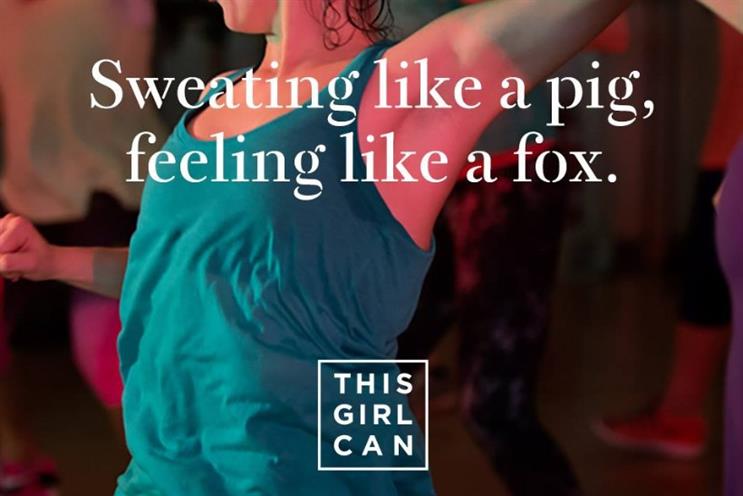 As a marketing tool sport is practically unparalleled in its ability to galvanise, inspire and excite consumers. Yet, when it comes to the women's sport, all too many brands are guilty of relying on unrealistic ideals of perfection to sell women a version of sport where participation doesn't build their confidence or invigorate them; but instead diminishes them with the unrelenting message they must shrink themselves and make themselves smaller.
Nike hopes its new line of sports bras, tights and women's sporting apparel will add $2bn to annual sales by 2017
However, this ironed-out, dead-eyed version of women's sport is firmly under attack. Strength and vitality are coming to the fore as female consumers,empowered by social media, reject the suffocating stereotypes of the past.
As women's sport continues to make its mark not just in terms of rising participation levels, but in business performance marketers increasingly cannot ignore this shift.
Nike hopes its new line of sports bras, tights and women's sporting apparel will add $2bn to annual sales by 2017. The sports giant believe the women's business will continue to outpace the rate of growth in the men's business. Elsewhere, Under Armour chief executive Kevin Plank has said he believes the women's business can be as big, if not bigger than the men's business.
In the midst of this shift came the #ThisGirlCan project, a groundbreaking initiative designed to bridge the participation gap between men and women in the UK, which currently stands at almost 2 million.
Speaking at a packed out session at Adweek Europe this morning, Tanya Joseph, the director at Sport England who oversaw the campaign, unveiled the marketing lessons behind the campaign.
1. Truth is everything
At the heart of the success of the #ThisGirlCan campaign lies not a complex algorithm but a simple human truth; fear of judgement. Vicki Holgate, head of strategy at FCB Inferno, the agency behind the campaign, explained that despite the fact that 75% of women say they want to do more sport a myriad of factors was holding them back; from fear of what they look like, to the competing pressure to look good and guilt that accompanies new motherhood. Yet the underlying theme which drew all these concerns together was the fear of the judgement of others. In line with this the campaign aimed itself squarely at increasing women's confidence to increase the likelihood of them participating in sport. The power of this campaign lies squarely in its understanding of women.
2. Embrace the shift from campaigns to campaigning
Sport England's Joseph said from the outset it was clear the group needed to create a campaign which could be owned and shared and ultimately take on a life of its own. "This was not Christmas in July, we weren't launching a product, this was about campaigning, not a single campaign."
In line with this #ThisGirlCan based its communication on a manifesto: "Women come in all shapes and sizes and all levels of ability. It doesn't matter if you're rubbish or an expert. The point is you're a woman and you're doing something.
3. True shareability has a life beyond content
There is no doubt that #ThisGirlCan is a phenomenal social success story; generating over 25 million total campaign views and almost 200,000 interactions.
FCB Inferno's seeding of the campaign was particularly impressive with a content-first approach which saw real women's stories get the message out as to how fear was holding women back from participating in sport. The agency also developed a bespoke algorithm which monitored the points in social conversation where women were hesitating and procrastinating about sports or exercise, enabling #ThisGirlCan to send a timely motivational tweet.
But crucially rather than focusing on social in isolation the campaign succeeded in challenging the vernacular about women in sports. As the Huffington Post so aptly declared: "This Girl Can reminds women that healthy bodies and perfect bodies are not the same thing."
4. Empower your consumers and partners
While many brands have been quick to adopt the language of community very few have built a genuine and engaged community around their brands. In many ways #ThisGirlCan's greatest marketing achievement is in building and nurturing a community of support and inspiration.
At the heart of this was creating a digital library of shareable assets which have been utilised by over 4,000 partners and sporting organisations in the UK. This is grassroots at it's very best. Alongside this Sport England is working with commercial brands and organisations in order to maximise its reach.
5. Embrace the great perfection defection
#ThisGirlCan ran its casting calls not at Storm Models, or at any other organisation where the impossibly beautiful convene. Instead the team went from sports centres and swimming pools across the country in order to find true and authentic stories and role models. The best women to challenge the stereotype that women can't do sport was the women themselves.
"We are all used to seeing the ideal and when even Olympic athlete Rebecca Adlington breaks down in tears about her appearance we know there is a problem," explains FCB Inferno's Holgate.
Sport England have embraced a truth few brands are willing to accept; namely the images of perfect women are not aspirational to consumers but isolating.
6. Let your content free
When you create a campaign based on challenging not a competing brands, but the very assumptions which make up the fabric of our society the stakes are higher. Inevitably you are vulnerable to criticism. (Indeed some commentators and academics have taken umbrage at a campaign targeting 14 to 40 year olds labelling its audience "girls".
Yet such is the strength of the #ThisGirlCan community that consumers have leapt to the brands' defence. In fact the team has identified a new phenomenon; instead of being at the mercy of twitter trolls 'Tinkerbells' have jumped in to defend the ideals of the campaign. Arguing the fact that academics find being called a girl offensive is part of the very reason the campaign is so important.
Of course losing control of any marketing communications plan is a difficult ask for any marketer. "It was very tough for me I am a control freak," explains Joseph "but we had to be with letting people use our content".
Yet creating a campaign which not only develops a life of its own, but galvanising a community of women is a just reward, not just for the creative endeavour but the inherent risks which accompany it.