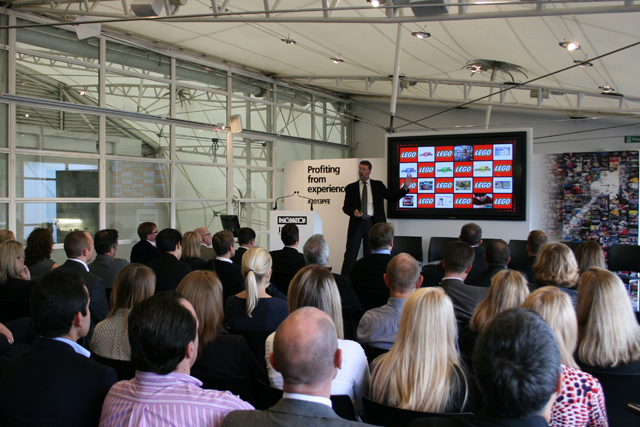 1 – If a brand is a story, then experiences are high-points of dramatic action
Plenty of brands have used experience as the high point of brand expression: Guinness with its Dublin Storehouse attraction, IMG with its US cafés. Joe Pine, author of "The Experience Economy", however, was drawn to the example of Procter & Gamble-owned toilet roll brand Charmin.
Launched in 2006, the Charmin Restrooms at New York's Times Square promised the best bathroom experience in the entire city, with staff available to offer a, erm, helping hand. Over 400,000 consumers visited the restrooms in the first year of opening and US sales increased by 14%. As Pine said, "If you can do it for toilet paper, you can do it for anything."
2 – Experiences are more emotionally impactful than communication
Orlando Wood, managing director at insight agency BrainJuicer Labs, evoked Daniel Kahneman's theory of behavioural economics, claiming marketers must better target "system one" emotional decision-making, rather than careful "system two" thinking.
Using the parable of an elephant and its rider, Wood said brands should attempt to appeal to the "emotional, impulsive" elephant, rather than the rider, suggesting the vast majority of consumers' a quick to trust "plausible, immediate judgements". He added: "If you build a path for people, they tend to walk down it."
3 – Powerful experiences keep you coming back
This is especially true in the luxury sector. Land Rover's global brand experience director Mark Cameron revealed that the marque has ambitious plans to get 2m customers taking part in branded experience events by 2020.
In its attempt to target its ideal consumer – the "unruffled hero" - the brand offers a range of experiences, from one-off urban tours to lengthy Land Rover Adventure Holidays. The company has 42 global experience centres, with plans to extend this to at least 60 over the coming years. Consumers taking part are also far more likely to go through with a sale, claims Cameron.
4 – Experiences are most powerful when they can be shared
The energy sector has suffered its fair share of reputation issues. Danny van Otterdyk, head of production group communications, production centre of excellence, at Royal Dutch Shell, claimed that experience marketing has provided a positive way for the brand to convey its technology and innovations.
"When I joined Shell 13 years ago, our communications were very reactive, almost apologetic in tone," said van Otterdyk. By ramping up activity around its Eco-Marathon events and opening the doors to its interactive Shell Energy Lab, consumers – in particular children and students – can share their experiences of the brand and prove that the company is "passionate about innovation".
5 – Experiences work at all points across the purchase journey
Land Rover's Mark Cameron remarked that experience can work better after purchase in the automotive industry: "Most people just want to drive straight off with the car after purchase. Then, three months after purchase, we can use an experience day to give them a deeper understanding of its capabilities."
However, citing the invention of the gumball wizard, author Joe Pine remarked that experience can interrupt and enhance the traditional idea of service delivery. "It has no functional purpose, and the service if even worse, and yet it has more value."
6 – The share of budget allocated to experience marketing is growing
Paul Simonet, creative strategy director at Imagination EMEA, said the agency had seen sufficient evidence to suggest this is true, claiming that brands such as Red Bull and Nike had transformed the way marketers think about experience. Land Rover's Mark Cameron backed him up, estimating that experience projects now accounted for roughly 20% of the brand's overall marketing budget, and is growing year on year.