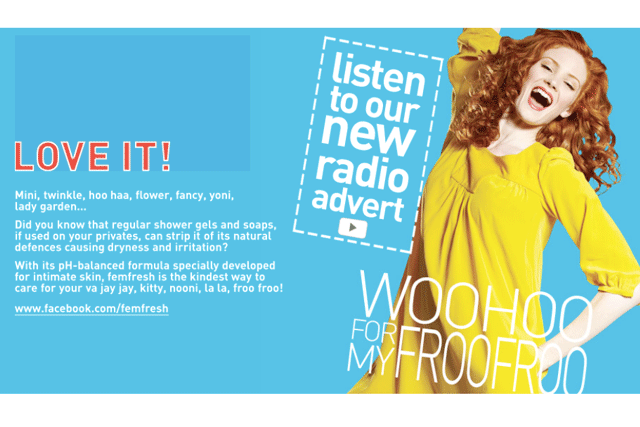 The issue of how to market to 'real' women is rarely off the agenda, with different brands each year seizing on the theme. Such an initiative - typically driven by collaboration between marketing and PR - is usually guaranteed to win a brand some positive column inches.
Brand view: Ute Bey, TENA Lady
Brand view: Helenor Rogers, Church & Dwight (owner of Femfresh)
Kellogg's Special K is one of the latest to put 'real' women in its ads, ditching its slim brunette in a red swimsuit for plus-sized women. However, reflecting the wants and needs of modern women is not restricted to getting to grips with body size - as campaigns from Femfresh and the European Commission in recent weeks have illustrated.
While a desire to avoid patronising women in marketing is not new, the proliferation of social media means any negative reaction is rapidly amplified.
'Social media is talking to customers in real-time, and we come back to people even if the comments are negative,' explains Ute Bey, European marketing manager for hygiene brand TENA Lady.
She argues that the instant feedback serves to improve campaigns, enabling messages to be quickly adapted.
'The modern marketing world is no longer about the product but about how you speak to your audience and understand them - social media is better than market research, because it's real life,' she adds.
For Femfresh, another hygiene brand, the issue has come sharply into focus. It attracted hundreds of negative comments online in recent weeks, slating its use of vagina euphemisms such as 'nooni', 'la la' and 'froo froo'.
'It has always been the case that "taboo" subjects generate radically different responses,' says Helenor Rogers, marketing director of Femfresh-owner Church & Dwight.
Despite the furore, the company claims the campaign, which has been running for a year, boosted sales of Femfresh products by 17% in 2011.
Highlighting flaws
The underlying problem, according to Heather Alderson, managing partner at Bartle Bogle Hegarty and head of the agency's Baileys account, is that certain brands are marketed around perceived failings of women.
'A lot of communication positions brands as assisting with the challenges of being a mum, or rewarding them as an antidote for something else in their life. There is almost a presupposition that being a woman is a bit rubbish,' says Alderson.
Brands can particularly fall foul if they question women's intelligence. Forever 21 was in the firing line in December when it released a T-shirt with the slogan 'Allergic to algebra'. It quickly apologised and pulled the product.
It is even harder to see the rationale behind the European Commission's (EC) summer campaign to attract young women to careers in science. The 'Science: It's a girl thing!'
online campaign made heavy use of pink, and included a logo in which the 'i' in 'science' had been replaced with a lipstick. After a barrage of criticism, the EC replaced it with a Twitter campaign calling on followers to help build a list of 'real women in science'.
'There is a fine line between insight and cliche,' says Alderson. 'Not all women love shoes; not all women think the worst thing ever is turning up at a wedding wearing the same dress as someone else. These are not funny, fresh or clever ideas.'
A cliche may offer brands a shortcut method to consumer decoding; but support the wrong one, and you risk a social backlash.
BRAND VIEW
Ute Bey, European marketing manager for TENA Lady, SCA Group
For an incontinence brand, breaking away from certain stereotypes, while embracing others, has been key in reappraising TENA's approach to marketing.
'We know the taboo subject of incontinence has changed in terms of how women talk about it and view themselves - 62% of 1000 women we surveyed who are over 18 have a very light condition. They are not the cliche of an overweight pensioner that wears cardigans. It is important to not talk in a medical way; they are not ill.
'On-pack, there is no reference to bladder weakness; women don't use those words. But there are vibrant, joyful colours. We changed the colours and design codes. For example flowers mean freshness, and this adds to confidence.'
Helenor Rogers, marketing director, Church & Dwight (owner of Femfresh)
'One of the initial subjects we talked over was whether to use the word vagina. We want to talk to women the way they talk to each other.
'Quantitative research showed that out of 500 women, only one used the word vagina. Women are not an amorphous mass - and in the digital age, we hear them all. But we are still very confident in the campaign, which has run for more than a year and picked up awards, and will continue to run it.
'You could never anticipate that a group of feminists, who will never buy our product, would be so antagonistic about the brand through social media. Ten years ago it might have been an article in a magazine on a coffee table. Now, the coffee table is online, and everyone can see it.'