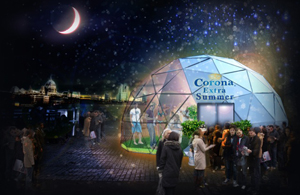 The bar is built within a heated dome, so that guests can ditch their thermals in favour of t-shirts, shorts and flip-flops to escape the British winter.
Sketch has created an experience built around the very best of summer holiday venues around the world. It replaces Christmas trees with tropical plants, roaring fires with summer heat and squashy sofas with 'al fresco' furnishings.
The sensorial experience will deliver the sights, scents, sounds, tastes and feel of the perfect summer. Christmas music will be ditched in favour of summery house and chill out tunes; snowy streets with grass under guests' feet; the smell of chestnuts roasting with the fresh scent of lime.
A perfect antidote to Christmas or an unseasonal Scrooge-inspired idea? Register here and tell us what you think.