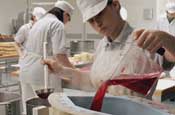 The documentary-style TV spot for its Fabia marque, which breaks on May 17, shows the bakers putting together huge cakes and reams of icing, accompanied by the Julie Andrews song "Favourite Things" from The Sound of Music.
As the action progresses, it becomes clear that the bakers are creating a car by making tyres with black icing and reconstructing headlamps from glacier mints.
The end product is an entirely edible vehicle down to the last detail; even the cake-moulded engine is filled with golden syrup instead of oil.
448 blocks of Madeira cake, 12.5kg of raspberry jam, and 360kg of icing were used in the making of the 60-second ad, which is documented in a "baking of" film that will appear on the Skoda website.
The ad, which aims to position the new Fabia as a vehicle that is full of everyone's favourite things, ends with the strapline "The new Fabia. Full of lovely stuff."