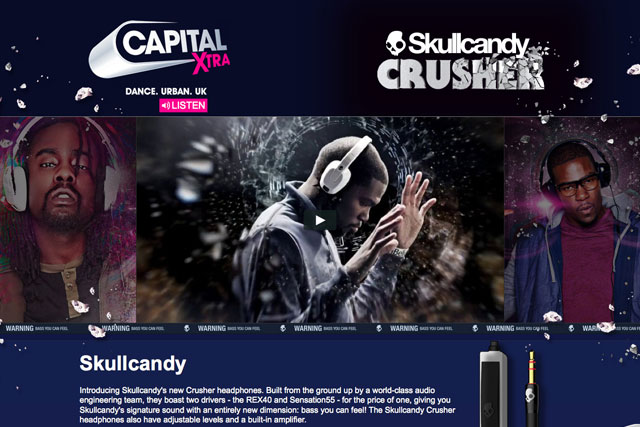 Capital Xtra, the new name for urban music station formerly known as Choice, launched two weeks ago with presenters including Tim Westwood and Craig David.
The four-month deal with the station starts today and will promote Skullcandy through on-air advertorials, station promotions, events and digital activity.
The promotion will take the form of three bursts of on-air activity, which will each direct listeners to the Capital Xtra website to enter competitions to win products from Skullcandy.
The digital activity will take a range of formats, including homepage takeovers as well as sponsorship of and banners on the Capital Xtra mobile app.
While Choice was previously only broadcast in London and online, Capital Xtra is available on DAB digital radio nationally, as well as on 107.1 and 96.9 FM in London. Global Radio has invested more than £1 million in the station.
Ashley Tabor, the founder and executive president at Global, said the launch of Capital Xxtra was a "great moment for listeners, for commercial radio, for the DAB platform and for our team here at Global".
Tabor said: "We're taking the best presenters and shows, and building on that by adding even more new talent to the line-up and we believe Capital Xtra has a very bright future."
BBC Radio 1Xtra, the BBC's own urban spin-off station, launched in 2002.
Follow @MaisieMcCabe