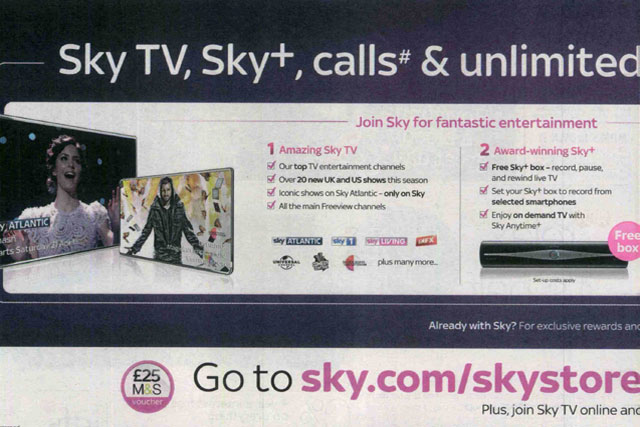 The ad promoted Sky's online movie rental service, which allows customers to use their remote control to download movies via their broadband connection to their Sky+ Box.
BT challenged whether the ad claims "New Sky Store ... available instantly through your Sky+ box" and "Rent movies instantly through your Sky+ box" were misleading because they exaggerated the speed with which consumers could use the service.
In its defence Sky said it believed customers would understand that the statement "rent movies instantly" meant they could rent a movie directly through their Sky+ box and begin viewing within seconds, as opposed to minutes.
It said that Sky Store users could begin watching a film before it had fully downloaded and the majority of those with an asymmetric digital subscriber line (ADSL), which offers faster broadband speeds, would be able to start watching a film within a minute.
It added that it believed customers understood that services provided over the internet would be affected by the speed of their broadband connection and it had pointed to this in its small print, which said a "fast enough broadband connection" was required.
The ASA accepted that the significant majority of ADSL broadband users would be able to begin watching an average length movie within less than a minute after beginning the download.
However it upheld the complaint on the grounds that a delay of up to a minute would not be in line with reasonable expectation for an online movie service described as instant and therefore it had exaggerated the capabilities of the service.
It ruled the ad must not appear again in its current form and Sky must not exaggerate speed in future ads for the Sky Store.
Sky recently escaped restrictions in the pay-TV film market, after a ruling by the Competition Commission which means it does not have to surrender or wholesale some of its existing movie rights.
BT has been openly critical of the review, saying it strongly believed that competition in the pay-TV market was "not effective".
Follow @shearmans