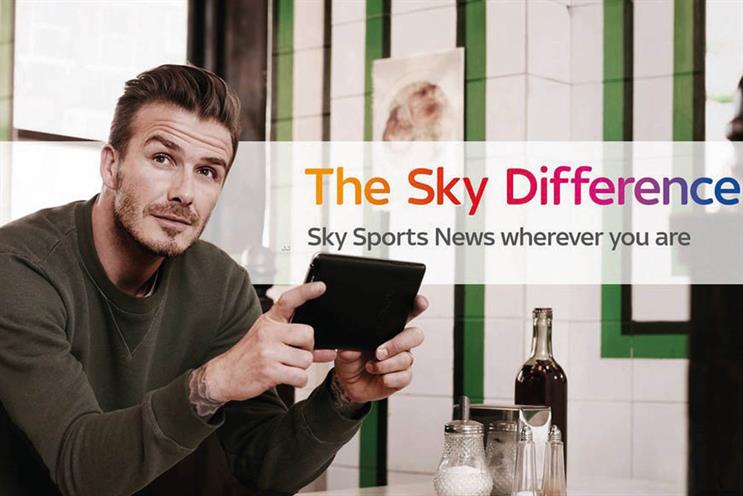 Some people have their eureka moment in the bath but Stephen van Rooyen had his while staring out of his office window.
Sky's chief marketing and digital officer was looking at the range of cars on display at the neighbouring BMW dealership in Osterley, west London. Suddenly, he realised that Sky could move from a one-size-fits-all TV service to a tiered offering that would appeal to customers at different price points.
The first step was to launch a "pay lite" streaming service, Now TV, for users who want to watch only a little.
Now comes the second, bigger move: Sky Q, a "pay premium" service aimed at those who want to watch as much as they can.
The Sky Q set-top box is a big improvement and will command a higher price when it launches next month.
Customers can watch something on one device and switch, mid-programme, to another seamlessly – technology that Sky has dubbed "fluid viewing". There is more storage to record shows and boxsets, while YouTube and Facebook are integrated into the on-screen menu.
"It's the most advanced TV experience in the world," van Rooyen claims, adding that it was "all designed, built and created in the UK".
In a sign of Sky Q's importance, his team is planning Sky's biggest ad campaign yet, worth £20 million.
Sky's investment in marketing is well-known. It hires A-list talent (such as David Beckham), buys prime ad spots (from digital outdoor to newspaper coverwraps), uses top production companies (The Mill was behind the visual effects for the Sky Q ads) and has won the Tour de France twice through its sponsorship of Team Sky.
But, arguably, Sky is still underappreciated by adland, particularly given its record of innovation and loyalty to its agencies. Which is why van Rooyen wants to talk.
For a start, the UK's biggest pay-TV company believes in advertising. Sky is the UK's biggest advertiser with an estimated £275 million media spend. That is up from £100 million in 2006. It has been the top spender since 2011, according to Nielsen.
Sky runs at least a dozen major campaigns a year, plus many smaller ones. Part of the reason is that competition has intensified since BT bought football rights.
BT is now the UK's third-biggest advertiser, while Virgin Media is fifth. Both offer a "quad-play" of pay-TV, broadband, home phone and mobile. Sky will launch its mobile service later this year.
Competition aside, van Rooyen says four factors have driven Sky's marketing. First, there is more money to invest because its UK customer base has risen to 12 million. Second, it has expanded its range of products including broadband, Now TV and Sky Store. Third, the creative possibilities have increased thanks to data, technology and investment in its 300-strong in-house creative team. Fourth, Sky's content deals have given it exclusive access to characters such as Marvel's Captain America, who appears in the Sky Q campaign.
Sky has also benefited from what van Rooyen calls a "settled" relationship with its agencies. Brothers and Sisters and WCRS have handled creative for a decade, MediaCom has overseen media since 2004 and SapientNitro has worked on below-the-line for even longer.
While some brands shake up their agency roster regularly, van Rooyen takes the opposite view. "Because we have worked together for so long, we've come to a very good equilibrium," he says. "Our business is so complex, and the industry we compete in is so dynamic, that I value a partnership with an agency who really understands my business and my challenges, and has been through good and bad campaigns. I want the chemistry to be one of shared responsibility for trying to make something a success."
Agencies like Sky's willingness to do new things first. But a client meeting is always "bracing", according to an agency source: "You can expect proper questions."
Sky's media mix has shifted over the past decade. The big winner has been digital, which has gone from 5 per cent to 25 per cent of spend, van Rooyen notes. That makes it worth about £70 million a year. Digital and data are the boom areas because they allow personalised advertising and accountability at scale.
Investment in all media has increased over the past decade. TV spend has jumped sixfold to £93 million, outdoor has doubled to £38 million and radio has trebled to £19 million. Even press, which has seen its share nearly halved, has risen by two-thirds to £46 million.
Sky has a panel of three million viewers and is one of the biggest users of AdSmart, its TV ad-targeting service. It also has Facebook details for more than six million customers, plus about 1.7 million on MSN, 1.5 million on Twitter and 1.4 million on Yahoo.
When Sky ran a campaign at the start of the football season featuring a virtual Thierry Henry in a series of classic scenes, the spot was tailored to suit Facebook users' interests. For example, more clips of Newcastle games for Newcastle fans. "We really made the ad relevant to the users," van Rooyen explains.
The film was viewed 18 million times on Facebook, making it the fourth-most-viewed video ad in the site's history.
Sky is increasingly turning to content, partly in response to issues such as ad-blocking. "Our balance of online investment has shifted into social, native and shareable content so that consumers can engage in and pass on our messages," van Rooyen says.
Good customer relationship management has reduced churn, which affects marketing. "Accuracy in using our own air [on Sky channels] to target customers is pretty profound," van Rooyen says. For example, a Sky Movies customer won't be shown an ad for that channel. Instead, they will see a Sky broadband ad if they don't already have it. "There's less wastage, which is better value," van Rooyen adds. Sky also won't show an ad for a service if it fears a customer is at risk of quitting.
But van Rooyen insists it won't get too personal: "I wouldn't seek to gain advantage at the expense of customer trust. If I lose trust, the rest doesn't matter."
Despite the company's obsession with rivals from BT to Netflix, Sky Q is ultimately a bet that the TV set will remain the main entertainment hub. Van Rooyen maintains that streaming isn't a grave threat: "You're more likely to be a Netflix customer if you're a Sky customer. Our data proves that."
Teens might watch less linear TV but he points out average daily viewing on TV has stayed pretty constant for a decade, and Sky subscriptions rise as people get older.
"Part of the leap is about families. If you're a 25-year-old moving into your first flat, are you going to sit down and watch – even if it's Netflix – on a little laptop? You're going to want to watch a big TV," van Rooyen explains. "It's incongruous to go 'They're investing all this money in great shows with high production values' and think you're going to watch it on a little device."
'Smart and analytical'
Stephen van Rooyen has been tipped as a future chief executive of Sky.
The company's chief marketing and digital officer since July 2014, van Rooyen has responsibility for more than just advertising and online. He heads Sky's consumer business in the UK and Ireland, including its TV, broadband and communications products, and customer acquisition and retention.
Van Rooyen used to be the director of strategy at Virgin Media but defected to Sky in 2006 when James Murdoch was in charge.
Tall, slim and sharp-suited, he comes across as earnest and passionate.
Josh Krichefski, the UK chief executive of MediaCom, describes van Rooyen as "smart and analytical". Nicola Mendelsohn, Facebook's vice-president for EMEA, says: "He likes to move fast, he likes to be creative." Van Rooyen also enjoys using digital and social media so "he understands how consumers use them", Mendelsohn adds.
Van Rooyen was born in South Africa – his father was an accountant and his mother a bookkeeper. He moved to Australia for secondary school and university. Armed with a degree in law and commerce, he has worked for Accenture, News International and Nokia.
He has been in charge of Sky's marketing since 2011 and is overseeing the brand "alignment" of Sky Italia and Sky Deutschland following the European merger. He is also a non-executive director at Johnston Press.