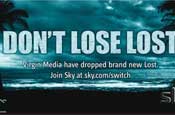 The account includes the Sky One, Sky Two, Sky Three, Sky News, Sky Movies, Sky Travel, Sky Arts and Sky Box Office brands.
There is currently no incumbent across the Sky Networks portfolio. Beattie McGuinness Bungay, the incumbent on the Sky One and Sky News brands, will not repitch for its share of the business.
WCRS, which handles the Sky brand advertising, has also been invited to pitch for the business. Sky intends to shortlist three or four agencies with an appointment expected by July.
For the full story, see tomorrow's issue of Campaign.