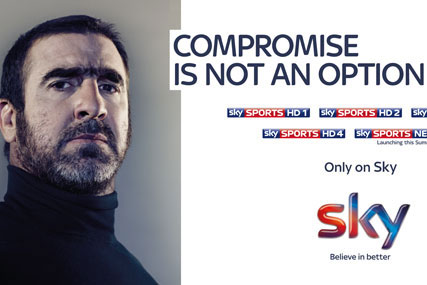 The campaign was developed by creative agency Brothers and Sisters and directed by Chris Palmer, with media planning and buying from MediaCom.

The broadcaster said that the campaign was meant to remind "sports fans that Sky remains the only platform which offers all of the action across all five Sky Sports channels, in High Definition."

Sky has recently been involved in a price war with BT, as the telecoms company heralds a new era in sports subscription competition. BT is offering Sky Sports One and Sky Sports Two for £16.99 a month, undercutting Sky's longstanding £26 basic sports package, which will rise to £29 from September.
Sky argues that the additional three channels and HD are not available as part of the BT deal.
Breaking today, the campaign will include television, outdoor, print and digital activity.
The ad will break to Sky Sports' Facebook fans, before making its terrestrial debut later in the evening.
The print, outdoor and digital campaign breaks from the 19 July. Sky Sports fans can view the ad at facebook.com/skysports.
In the ad, Cantona considers the uncertainty of sport. He narrates in the first person as he relives classic Sky Sports-captured moments of surprise or unpredictability.
These include Liverpool winning the 2006 Champions League final, the outrageous through-the-legs winner from Roger Federer to set up match point in the semi-final of the US Open, and Kevin Pietersen's first audacious left-handed six.
There are also slightly more offbeat scenes, including a simultaneous double knockout of two boxers and the stealing of a golf ball from a green by a seagull, obviously one of Cantona's favourite birds.
Cantona signs off with the line: "Anything can happen in sport. The only certainty is you'll get all of Sky Sports on Sky."
David Murdin, Sky's director of marketing for sports and news, said: "This campaign encapsulates everything that fans love about the unpredictability of live sport. Like the uncompromising Cantona, fans demand passion, quality and dedication.
"What's more, they don't want to miss a moment of the sports they love, which is why we believe customers will respond to the authenticity of Sky Sports, a brand which has won the trust of sports fans following over two decades of ground-breaking coverage."
It promotes extended Barclays Premier League football, the Ashes, Ryder Cup, Uefa Champions League, Scottish Premier League, Premiership and Heineken Cup rugby, international football and rugby, US and European PGA golf, on Sky Sports.
In the autumn, Sky will launch Sky 3D to its Sky+HD customer base, which will offer live sports in 3D each week.