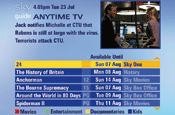 The Sky Anytime video-on-demand service spans television, PC and mobile. Now the company is preparing several initiatives to build its on-demand presence, as VoD services from rival TV players start to become popular.
Among its plans, Sky aims to expand the Sky Anytime on PC ­ser­vice by integrating it with other websites within the Sky portfolio, such as Sky One.
Griff Parry, BSkyB's director of on- demand, said that while Sky Anytime will remain a destination website, elements of the service would appear on other Sky online properties. The move is part of a wider push by the News Corporation-backed company to deepen its online presence.
Parry added: "We will integrate Anytime within our various websites, such as Sky.com and Skyone.com. Sky Anytime will continue to be a destination, but will also operate within other Sky online areas."
With Sky Anytime on PC becoming an increasingly popular online destination, Sky also intends to carry advertising around the service. Tests are underway to determine the appropriate model.
Parry noted that, as a subscription-focused company, Sky would tread carefully with advertising. He said: "Advertising will probably become a key revenue stream. We want to make a lot of content a­vailable for free where we can, but we would not want to jeopardise the customer experience."
Sky already carries some advertising around the Sky Anytime TV offering, a "virtual" VoD service that downloads content to satellite TV subscribers' set-top boxes, which can be accessed by 1.6 million Sky ­customers. Up to 40 hours of VoD content is available at any one time.
The firm also intends to broaden the content available via its PC, TV and mobile on-demand ser­vices. At present, the PC service does not offer third-party content, while the TV service offers a selection of third-party content from providers such as National Geographic and Discovery.
Meanwhile, Sky is progressing with the launch of an IPTV-delivered VoD service, which would turn its Sky Anytime TV service from a virtual service to a true on-demand offering, allowing users to access a wider range of content at the time of their choosing. Parry said the launch would partly depend on customer appetite for such a service.