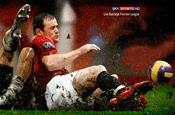 The broadcaster and platform owner, which has found itself at the centre of Ofcom's consultation due to its ownership of sports and movie rights, called on Ofcom not to introduce greater levels of regulation to cover its supply of content to rivals.

In its response to Ofcom's second Consultation Document on pay TV, Sky said: "It is Sky's view that Ofcom has failed so far to conduct its investigation in accordance with these standards and that this failure has contributed significantly to the serious flaws in Ofcom's substantive analysis."

"Coupled with Ofcom's failure to conduct a proper assessment of the impact of its proposals, these factors have led Ofcom to perverse conclusions which risk consumer harm."

Sky's response follows publication of Ofcom's findings last September, in which the regulator raised concerns over Sky's ownership of content.
Other broadcasters, including Virgin Media and Setanta, have welcomed Ofcom's consultation.

The Ofcom report said: "Retail competition that we see in pay TV as a result of limited distribution of premium content is likely to manifest itself in terms of reduced choice, reduced retail innovation, reduced platform innovation or higher prices."

Ofcom raised the possibility of referring the issue to the Competition Commission in a bid to force Sky to share premium content such as sports rights with other platforms and broadcasters.