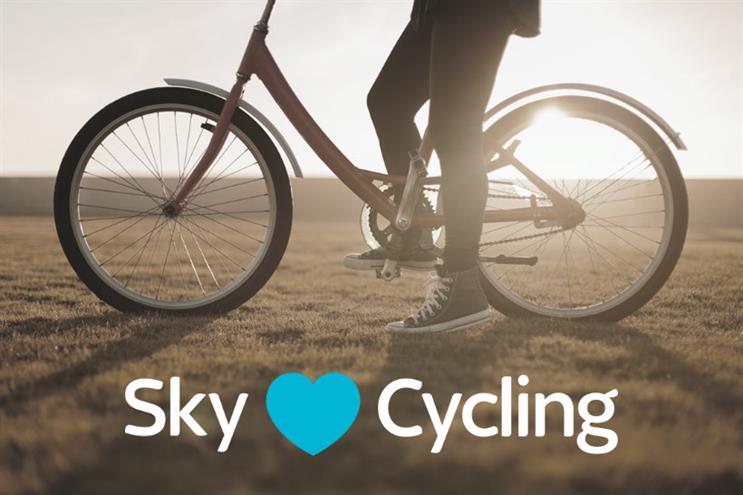 Sky is celebrating its eight-year involvement with cycling with a 'Sky Loves Cycling' social media push - despite the fact its British Cycling sponsorship ends this year.
The broadcaster has set up its first Instagram, Twitter, Facebook and YouTube accounts dedicated to cycling, as part of a wider marketing push to celebrate its long-running involvement with the sport. PR and content agency One Green Bean is working with Sky for the campaign.
Sky is also mulling 360-degree video on Facebook and livestreaming events on Periscope as part of the campaign, Sky's head of brand for cycling and Team Sky, Ian Murrary, told Campaign.
Sky Loves Cycling will see the broadcaster push behind-the-scenes content of Team Sky, including Chris Froome, Luke Rowe and Geraint Thomas.
Murray said: "With a huge summer of cycling ahead for Britain, the sport is quickly becoming one of the nation's most popular activities to both support and to participate in.
"The Sky Loves Cycling channels have been created to bring cycling fans closer to the sport and to provide them with the cycling inspiration they need to get on their bikes."
Murray added that Sky would be promoting the new accounts with some paid media.
Sky is hoping to tap into enthusiasm for a summer of cycling, with the Tour de France in July, the Olympic Games and Sky Ride, the long-distance cycling events scheme for the general public.
Murray added: "There is definitely a demand for more content led activity from brands to engage with audiences.
"In terms of Sky, cycling has become the heart of the brand and the new social channels are allowing us to share the fantastic access we have with world-class riders and events, and provide riders at all levels with inspiration, advice and entertaining content."
Sky's sponsorship of British Cycling ends this year, though it will continue to own Team Sky. It will also help cycling's governing body to find a new sponsor.