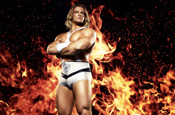 Gladiators made a strong return to screens in May with viewing figures - compiled from its Sunday night showing, Sky One and Sky Two repeats and Sky+ - hitting highs of 2.6m in its first week.
By episode eight, however, consolidated figures had dipped to 1.1m across the same period platforms. The 'celebrity special' in early July, which featured contestants such as Bianca Gascoigne and Danielle Lloyd, pulled in 1.2 m viewers over the Sky portfolio.
The broadcaster backed the return of Gladiators with a high profile ad campaign featuring TV ads inspired by the 2000 blockbuster movie Gladiator.
Sky has this week unveiled a brand refresh for Sky One; the channel is pinning its hopes on the return of Cilla Black, who will front a dating show called Loveland.
The autumn line-up also includes Hairspray: The School Musical, hosted by Denise Van Outen, a Noel Edmonds special and a three-part Wayne Rooney series.