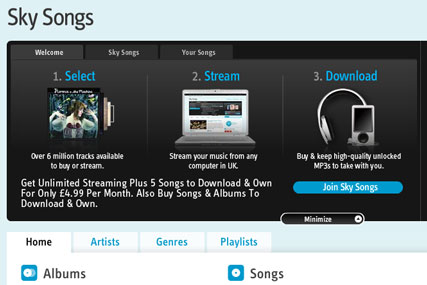 Sky Songs was launched last October aimed at all consumers, not just Sky customers.

It initially offered a £6.49 per month package of unlimited ad-free online streaming plus 10 song downloads, from a selection of more than four million tunes.

It currently has an offer of £4.99 per month for unlimited online streaming plus five song downloads.
Sky has written to customers to tell them the service will close on 7 February. The broadcaster has reassured consumers they will not need to make any further payments, and that the closure will not affect any music downloads they have already bought.

A Sky spokesperson said: "We've taken the difficult decision to close Sky Songs. Although we are extremely proud of the service we built and the experience it offers, we just didn't see the consumer demand we'd hoped for."

"As Sky Songs demonstrates, we're a business that takes risks and innovates, but at the same time, we're pragmatic and act decisively when a new venture isn't working out."

By removing a competitor from the market, the closure is likely to favour more established services such as iTunes and Spotify. However, it also casts further doubt on the viability of online music after the extent of Spotify's losses during 2009 were revealed last month.