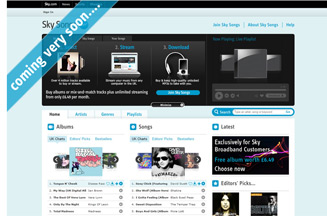 Sky Songs let people stream online or store music as mp3 files. The service, which launches on the 19 October, will be available to any consumer in the UK with an active broadband connection.
The service launches with new releases and back catalogues from EMI, Sony, Universal and Warner plus independent labels and distributors.
Sky Songs costs £6.49 a month for an album or ten songs. Customers can also purchase additional music on a per-track or per-album basis from 65p and £6.49 respectively.
The service will be available at: http://songs.sky.com/