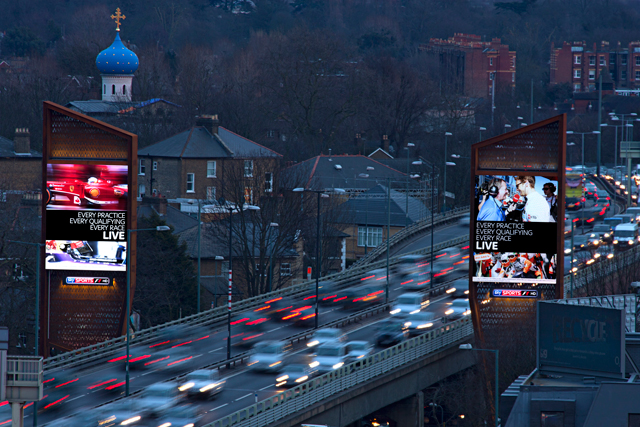 The towers are positioned either side of the M4 motorway between Heathrow airport and central London. They were built by Wildstone on behalf of Transport for London, which claims they will have a monthly reach of 2.3 million.
The Sky Formula 1 activity uses the double LED screens on both towers and was booked through Interpublic Group's Rapport.
The Chiswick Towers are made from weathering steel so they can rust while staying stable. They are designed to complement the natural and man-made environment around them through their structure, lighting and landscaping.
Matthew Dearden, the chief executive of Clear Channel UK, said: "The Chiswick Towers are a game-changer for out-of-home advertising. Blending true architectural design and the very best digital screen technology raises the bar for the whole sector, creating a stunning new opportunity for advertisers and brands."
Although the Chiswick Towers are sold by Clear Channel, the media owner has not branded them to allow advertisers to take full ownership of the structures.
Wilstone, which is run by former Ocean Outdoor chief executive Damian Cox, has a three-year contract to develop TfL's roadside estate, which will generate more income to invest back into the London transport network.
Follow @MaisieMcCabe