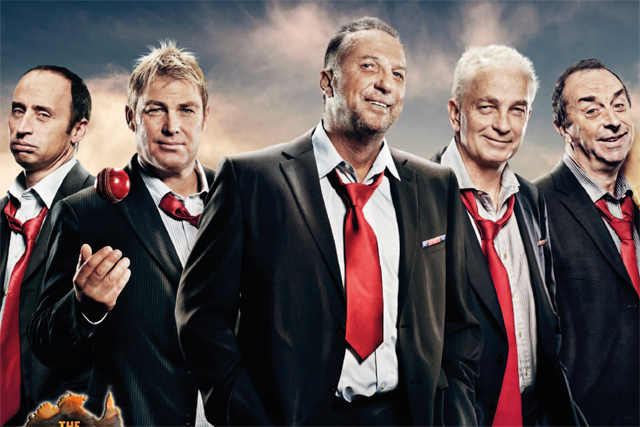 The print and outdoor campaign, created by Brothers and Sisters, kicks off this weekend. It features the Sky commentators and former cricket players Ian Botham, David Gower, Shane Warne, Nasser Hussain and David Lloyd.
The commentators all appear exhausted and dishevelled to reflect the fact that Sky Sports will be screening exclusive live coverage of all the action from Australia throughout the night for fans who stay awake.
A spokesman for Sky said it was the first time the series has been broadcast in high definition from Australia and is the 20th anniversary of the first Ashes to be shown live in the UK and Ireland.
Highlights from the tour will be shown on the Sky Sports channels, Sky Mobile TV, skysports.com and Sky's online TV service Sky Player and more information is available at www.skysports.com/ashesanywhere.
Joel Keoghan, marketing manager of Sky Sports, said: "The advertising creative is a light-hearted twist on the sheer breadth and flexibility of the Ashes coverage Sky customers can enjoy.
"Live coverage will not only be in HD, but live on mobile and online too. For those who don't stay up through the night, there's on demand highlights of each day's play available for subscribers on Sky Anytime and Sky Player. So no matter where you are, or what the time is, you never need to miss the action."
Media and buying for the campaign, which also includes on air, radio and online activity, was by MediaCom.
Sky's secured rights for the tournament in February 2009. Its coverage of the Vodafone Ashes Series 2010/11 starts on 24 November with the first test in Brisbane on the 24 November. It ends with coverage of the fifth and final test from 3 January 2011.
Last year a report commissioned by the Labour Government recommended that the home leg of the Ashes tournament be available on free-to-air TV and a consultation on the proposals ended in March.
However, in July Hugh Robertson, minister for sport and the Olympics in the Coalition Government deferred the decision until the end of digital switchover process in 2012 citing an "increasingly unclear" broadcasting context.