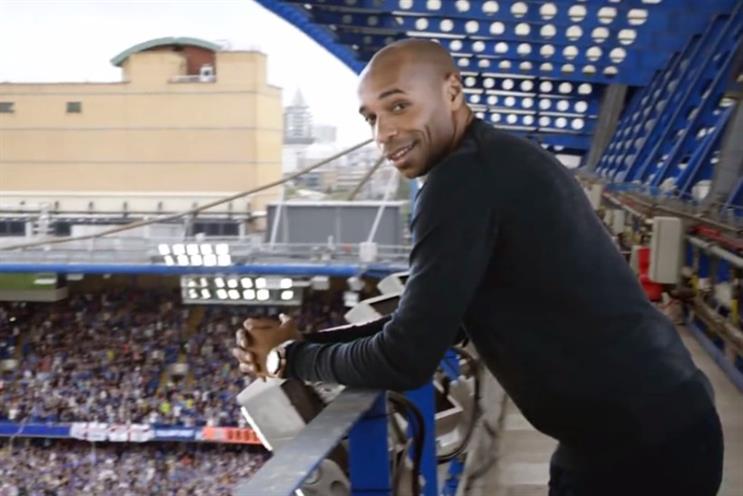 To celebrate the start of the new season (and mark its territory), Sky showed off its historical presence in the game with a viral ad featuring Thierry Henry.
The Arsenal legend revisits the league's most memorable moments over the last 23 years, including some from Henry himself.
The ad was previewed on Facebook before running on TV, becoming the social network's most successful ad in EMEA to date, racking up 18m video views.
Ahead of its start of season show, Sky Sports continued its Facebook push, asking fans to submit their opinions and questions on the best and worst moments of the league's 23-year history.
These went to the show's panel, featuring Henry, Jamie Redknapp, Graeme Souness and Dave Jones, and the show was previewed in three parts on Facebook before being aired.
Stuart Payling, Sky Sports brand manager, said: "When we began planning this year's campaign, we knew lots of people would have an opinion on their favourite Premier League moments.
"We thought, what better way to fuel the debate than pitch the opinions of Thierry, Jamie and Graeme against those of Premier League football fans on Facebook?"
According to Facebook spokespeople, the preview segments racked up 1.19m views, with the majority watching for more than 15 minutes.
Good content can buck the trend
That challenges conventional wisdom that video content from brands need to be as short as possible to keep users engaged – though Sky Sports has the advantage of being a brand that produces good content for a living.
Jen Louis, global strategy lead at Facebook, told Marketing: "We cut [the Sky Sports show] into three parts because, if you look at viewing habits, one 48-minute video is a bit much.
"But people watched for more than 15 minutes and almost to completion in all three pieces – and those are really fantastic numbers if you look at what people watch on Facebook. What we know is when we put content up that is really relevant, people are willing to watch for a very long time."
She added: "Sky Sports wanted to focus on what they had done historically, and how they really understand the Premier League like a fan does.
"It was about communicating this in a way that made people feel [that] not only do they want to watch on Sky Sports because they [subscribe], but because the way it talks about the game is the way they want to hear it."
Targeting fans
After the show, Sky Sports sliced up its show, then used Facebook's extensive data on user interests and affiliations to serve those snippets to fans of Chelsea, Manchester City, Manchester United, Liverpool and Arsenal respectively.
Each segment featured the relevant club's best Premier League moments, and was presented by a relevant pundit.
Facebook targeted not only football fans who identified with certain clubs, but also the millions who had expressed interest in the FIFA World Cup in 2014.
Matt Ring, head of TV and broadband at Facebook, said: "Sky Sports does want to drive subscriptions, but the [brand] also knows that the more content people consume, the more likely they are to stay with the service."
Ring added that the content was targeted at existing Sky subscribers who don't have the sports package, as well as new customers.
He said: "It's the ability to make sure people are seeing that content in a way that feels really relevant to them."
Sky Sports hasn't revealed how many new subs may have come from its efforts on Facebook.
The era of personalised storytelling
Jen Louis acknowledged that other brands might find it tough to replicate Sky Sports' success on Facebook.
She said: "Sky Sports are expert storytellers, doing it all day every day. A Listerine might need to tell a story, but has a myriad of aspects to consider. But Sky Sports is able to get things done very quickly, and knows how to cut those clips and get them together in a way that's really timely."
While Ring described Sky Sports as a brand leading the way in personalised storytelling, he suggested more brands would borrow the technique.
He said: "The whole idea of being able to discover what's important to you – whether from a friend or a brand – is absolutely what feels natural as a user.
"From a brand's perspective, if you can surface stories, or pieces of content about something I'm interested in, it'll be a better experience for both [users] and the business. We're seeing more brands playing in this space."