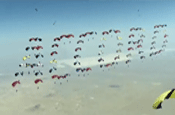 The 90-second ad, called "jump", broke yesterday.

Set in the Mojave Desert, it shows the skydivers creating a number of aerial formations including a steering wheel, a suspension spring and a camera before the team come together to form the word "Accord".
The spot concludes with the new Honda endline: "Difficult is worth doing."
The ad is the final part of a campaign that included 96-sheets and an unbranded teaser TV campaign with abstract shots of a skydiving team preparing themselves for an event.
"Jump" was preceded by a three-minute live TV ad that aired on Thursday.