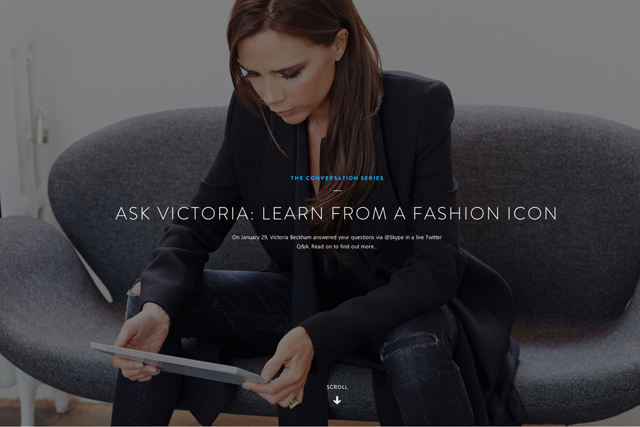 The 'Skype Collaboration Project' campaign, created by Sunshine, aims to deliver new "storytelling formats that fit in with the hyper connected digital-enabled generation", and was created to give 18- to 34-year-olds a glimpse into top fashion designers' lives.
Skype has set up a standalone Collaboration Project website, which hosts a 'Five Years – The Victoria Beckham Fashion Story' microsite that tells the story of how Skype has influenced Victoria Beckham's business.
Visitors are being encouraged to ask Beckham questions via video messages and the site is about to launch a film that charts the journey Beckham has been through with the development and production of the New York fashion week collection.
Jackie Lee-Joe, marketing director at Skype, told Marketing that she hopes to expand the initiative beyond just fashion to other creative endeavours such as "music and film"
Skype turning to Victoria Beckham to promote its communications platform comes as Google continues its strategy of high profile partnerships for its Hangouts product, having just signed a deal with Manchester United.
Previous initiatives by Google included a 'Ghetto Film School Masterclasses', which connected Precious director Lee Daniels to aspiring filmmakers, to a 45-minute interview with David Beckham via a Google Hangout.
Lee-Joe said: "What we are not doing is showcasing superfluously the capability of what we do. We've got a combination of Skype as a collaboration and enabling tool and then we use Skype's capability in terms of instant messaging and group video calling and video messaging to engage a global audience and get them actively involved in the story.
"We've got a combination of elements that drive this partnership that might be just a little bit different to what Google Hangouts is doing."