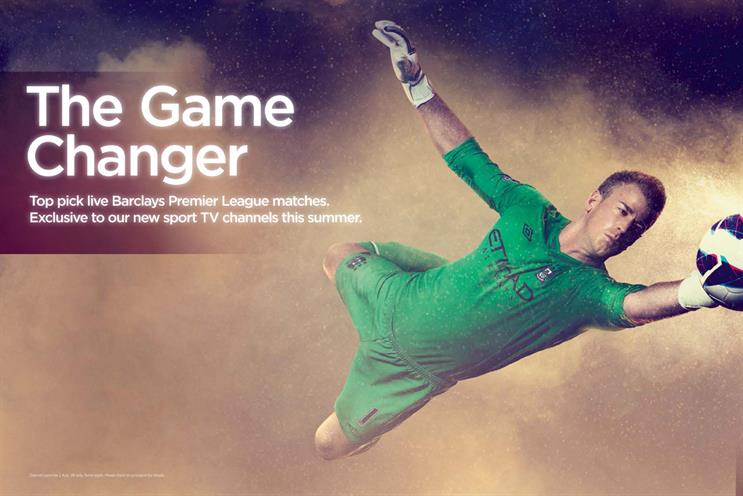 One of the biggest off-pitch football battles of the decade gets under way next month when BT takes on Sky with the launch of its BT Sport channels, showing 38 exclusive Premier League games for the coming season. But is this a fight for pay-TV dominance or a scrap over broadband customers? In reality, it is a bit of both.
David James, the consumer marketing director at BT, tells Campaign that most of the media have missed the point with their coverage, portraying it as BT taking on Sky's dominance in pay-TV. The main aim, according to James, is to sign up broadband customers rather than compete head-on with Sky's powerful package of sports rights. BT is offering its sports channels for free to its broadband customers.
"We don't want to be played off against Sky," he says. "We accept that a lot of people love Sky, but we have moved the game on… The only decision we are asking people to make is which broadband they use."
James claims the strategy is already paying off, with "very strong take-up" of BT broadband in recent months, adding to its 6.7 million broadband subscribers.
But Sky is among those keen to portray this as a battle over which offers better sports coverage. Sky Sports' managing director, Barney Francis, says BT has made a lot of "noise" about BT Sport, but Sky has three times as many Premier League games and will kick off the season showing top-flight matches from the biggest clubs. He adds that BT's offer bears "no comparison with what we offer".
He doesn't mention broadband, where Sky has built up a strong position with 4.4 million customers. BT would need to make significant inroads into Sky's broadband base – poaching at least a million customers – to make its investment in BT Sport of more than £1 billion stack up.
BT has already paid £738 million for the Premier League matches over three seasons. Last week, it announced that it had won the rights for FA Cup games in partnership with the BBC.
It has also bought rights to show Premiership Rugby, women's tennis and a handful of other sports. The question is whether the offer is strong enough to persuade Sky broadband customers to pay an extra £12 a month (£15 for high definition) – or switch to BT broadband – to get the coverage not provided by Sky. However, it seems an expensive way for BT to win broadband customers.
But these are just the opening shots in a battle that will rage for years, Steve Martin, the chief executive of M&C Saatchi Sport & Entertainment, says. While acknowledging that "Sky are the top guys by a long way", he notes that BT has a significant war chest with which to build.
This was proved by BT Sport's FA Cup rights victory last week for four seasons until 2017/18, having teamed up with the BBC in a deal sources estimate at £200 million to outbid a competing joint offer from Sky and ITV. Champions League rights currently held by Sky could be next, Martin says, followed by attempts to get a bigger slice of Premier League action in the 2016/17 season.
Depending on the next few years, BT's focus might yet switch from a scrabble for broadband subscribers to a fight for control of pay-TV. And that's one battle Sky cannot afford to lose.