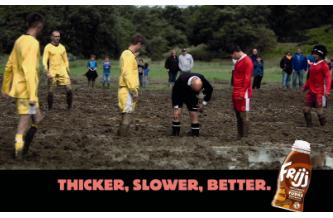 The sponsorship includes 15-second opening and closing show idents, plus five-second break bumpers. The clips, by Grey London, show people playing 'swamp football' in knee-deep mud.
'The humorous tone of the show fits well with the FRijj brand and will allow us to further build brand awareness following the success of the Four Ridges campaign in 2008,' said Marc Dubery, liquids sales and marketing director at Dairy Crest.
Previous sponsors of Soccer AM, which airs from 9am to 12pm each Saturday on Sky Sports One, include The Sun, chocolate bar Yorkie and Brylcreem.
The entertainment programme, featuring footballing and celebrity guests, is presented by Max Rushden and Torquay United supporter Helen Chamberlain.