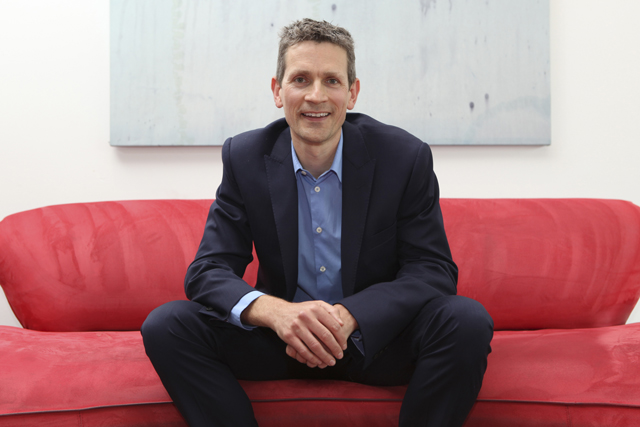 If social media sites have become the definitive forum on which to pronounce judgment on a person's abilities and qualities, the YouTube sales director, Bruce Daisley, can probably count himself as (for a short while at least) one of the most talented and popular people in advertising.
At last week's Media 360 conference, the reaction to his presentation on online video on the obligatory TwitterFountain, which displayed live comments to the audience, included "I salute you", "Bruce smashes it" and "Best of the day so far".
The more cynical could point out that this just demonstrates the ephemeral nature and dubious value of commentary or metrics of research delivered on social media, but the fact is it's really, really difficult not to like him.
Like a middle-aged Brummie puppy, Daisley is excitable, energetic and eager to please. Having started his career at Virgin Radio, he joined Emap Advertising when it was the most pioneering of the media sales houses and gained experience in selling radio and digital media that has proved to be useful in his current job.
Indeed, he is credited as being a brilliant salesman and also, it emerges, a thoroughly decent bloke - so it's little wonder the audience loved him after he bounced around the stage during an enthusiastic presentation on ad effectiveness that also encouraged audience participation.
Daisley effortlessly made YouTube look like the future and that anyone who didn't share this vision must clearly have Luddite tendencies as he announced to the industry a new initiative that would ensure that the company would only charge advertisers for those ads that were actually watched on the service and not skipped. He says that YouTube is moving away from its old "pay and spray" model into something more targeted where the best ads cut through.
And at first glance, it was difficult not to get caught up in the maelstrom created in Daisley's wake and believe that in the forthcoming age when internet-enabled TV sets become the norm, YouTube will be the Google of the future. In fact, he makes it sound like a positive force for good. "Our founding principle is users first, last and always," Daisley says. "YouTube's transformed over the past two years; it's entered the mainstream and reaches across all demographics."
He reels off some mind-blowing statistics: 48 hours of content are uploaded every minute, there are three billion YouTube streams every day, 78 million people watched its coverage of the royal wedding, it is increasing the levels of investment in originated content, which is impressive stuff. "Your TV is the dumbest item in the house. With the benefit of hindsight, we'll look with incredulity that it didn't have a connection to the internet," he says.
But upon reflection, a more considered view is that YouTube still has some way to go if it is to become an established broadcast channel. There is still some work to do to convince the industry of its value.
While the YouTube sales initiative introduces the idea that only ads that are not skipped are paid for, there is also the apparent dichotomy that if the ad was that good in the first place, then people will seek it out on YouTube any-way, meaning advertisers wouldn't have to pay to put it up there.
One sceptical planner describes YouTube as still dominated by "skateboarding dogs and for men wanking online", while a TV executive adds that while YouTube has had some successes with showing live content, such as the Indian Premier League cricket last year, and has deals with broadcasters including BBC Worldwide and Channel 4, it is still used by TV companies primarily to "rinse low-value content".
Their better content, meanwhile, is kept on their own video-on-demand sites where they can charge a premium for it and, more importantly, any revenue counts towards an agency's share deal with the broadcaster. This leaves YouTube scrabbling around with the other bottom-feeders for incremental cash, and there are questions that the dawning age of the internet-enabled TV will do very little to change this given how the broadcasters are doing their utmost to protect their own positions with platforms such as YouView. Agencies see it as a nice addition to a media schedule - the use of branded channels has become increasingly popular - but certainly not integral to it.
These are things that Daisley would refute. He predicts a massive increase in the consumption of video and that, by 2013, 90 per cent of internet bandwidth will be used for video online.
Equally, the agency gripes are issues that are arguably beyond Daisley's control, and there is no getting away from his popularity. Nick Hewat, Telegraph Media Group's sales director, is one of his many fans: "Bruce is the type of person you cross the room to be with. He's great company, funny, warm and sometimes provocative. He is one of the best speakers because he works hard at it - he thinks about the audience, he involves them, he tells them something they didn't know."
Which makes it difficult not to conclude that it isn't YouTube that people necessarily love - it's Daisley himself. It looks like the TwitterFountain was right, after all - given the industry's other reservations, the company should count itself lucky to have him.
THE LOWDOWN
Age: 39
Family: Girlfriend, two kids
Lives: Originally from Birmingham, now North London
Car: Boris Bike
Favourite TV programme: Harry Hill's TV Burp
Last book read: Nemesis by Philip Roth
Personal mantra: Work hard, be nice to people