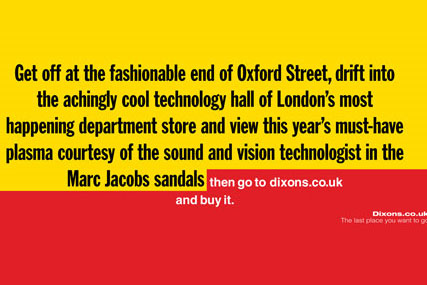 This year's winner of endline data search service Adslogan's annual competition will be announced online, early in September.
Last year's AdSlogan winner was VCCP's catchphrase 'Simples' for Comparethemarket.com, followed by Lynx Bullett's 'Pocket pulling power' by Bartle Bogle Hegarty New York. In third place was Wall's 'We only select the best bits' by Beattie McGuinness Bungay.
The nominated slogans have to have appeared for the first time since 1 May 2009, and a panel of judges will determine the top three.
The panel is made up of representatives from advertising and creative agencies throughout the UK.
The full list of this year's contenders:
The last place you want to go - Dixons, M&C Saatchi
Let's colour - Dulux, Euro RSCG London
Bursting with berryness - Ribena, M&C Saatchi
Why Britain loves curry - Patak's, JWT London
Motion & Emotion - Peugeot, BETC Euro RSCG
For ladies that crunch - Ryvita, Grey London
I'd go Directgov - Directgov, MCBD
The game is just the start - Sony PlayStation 3, TBWA London
Every dessert deserves a squirt - Anchor, CHI & Partners
Write the future - Nike, Wieden & Kennedy Amsterdam
Find the strength - Victim Support, MWO
There's method in the Magners - Magners, The Red Brick Road
Be Stupid - Diesel, Anomaly
We care because our name's on it - Warburtons, RKCR/Y&R
Power to you - Vodafone, Santos Argentina
It's great in the middle - Clover, Grey London
Here for good - Standard Chartered, TBWA Singapore
Let's go - Shell, JWT London
Smell like a man, man - Old Spice, Wieden & Kennedy Portland
Quality you'd expect at prices you wouldn't - Waitrose Essential, MCBD