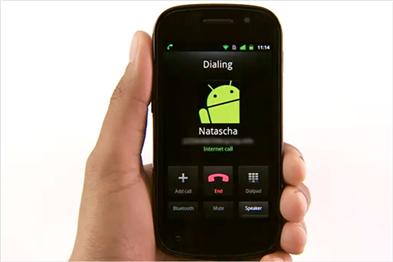 Digitally advanced consumers could be forgiven for thinking that practically everyone in the UK has a smartphone now - but a nationally representative survey proves the reality is somewhat different.
Recent ICM research shows that iPhone, BlackBerry and Android handsets (all of them) each has only 6-7% penetration among the total base of all mobile phone users.
The majority of UK mobile users still have an entry level phone, leaving us well behind some other markets.
Nevertheless it is clear that smartphones are more than niche now; they are a critical driver of growth for the industry, as more and more users want to connect and share through mobile devices.
Latest global statistics from Canalys show that 2010 fourth quarter sales of smartphones were up a staggering 89% on the year before, with Google's Android platform emerging as the leading brand.
Handset penetration among all UK mobile users (%)
Source: ICM Research
In our research, 23% of current UK non-smartphone users interviewed said that their first choice for their next handset would be a smartphone.
The market opportunity is now clear; but as competition for smartphone hearts and minds intensifies, what is the feedback from UK Android users?
The focus on Android
The industry and consumer buzz around Android has been increasing over the past 12 months. A great deal of the focus has been on its increasing share of smartphone sales, the role of Google and open-source as well as - and perhaps most contentiously for would-be digital opinion formers - the potential effect on iPhone's position in the market.
ICM Research decided to contribute to the discussion with a piece of research conducted among UK Android users.
Key topics for us were what led them to choose Android and, having made that choice, exactly what they think of their handsets. Would they be as upbeat and enthusiastic as the industry?
Android owners feel they have done their homework
The first thing we realised from the qualitative work we undertook was that our participants were very engaged with technology and they really came across as archetypal early adopters who want to stand out from the masses.
They talked with pride about self-educating online and choosing Android after very careful research.
Securing the best deal was important, based not only on the cost of the handset (or the contract) but also on perceived lifetime value.
They also felt that the fact that there were lots of handset options served to build further confidence in opting for the platform.
"I heard it was getting better and getting integrated with a lot of phones… the best thing about Android is that is still feels like it is in its infancy… I don't think I will get bored of the phone for the duration of the two year contract."
In the quantitative work we found that these themes were broadly confirmed:
78% of current Android users agree that they like to stay up to date with technology

54% regularly visit technology websites and online forums
I like to stay up-to-date with developments in technology
Source: ICM Research
I regularly visit technology websites and online forums
Source: ICM Research
65% bought their handset based on reviews read online

48% believe that Android phones are a better long-term investment

61% think that Android is the best smartphone option because of the wide range of handsets available
Android users are also very positive about their experience so far - why?
67% of Android users would recommend Android to friends and family.
The Android users we spoke to in depth felt that they had a lot of reasons to be happy with their handsets and in most cases were quite evangelical in the way they got their points across.
They find their phones both fast and intuitive to use, but also - because they love their technology - they really buy into the idea of open-source.
Linked to this is a belief that Android puts them in the driving seat because of the level of customisation it offers:
"Being open-source, it means it is quite social… I like the idea of Google writing software and putting it our there and anyone can write apps for it."
Again we saw these themes reflected in the quantitative work:
58% of current Android users agree that Android phones are more logical and intuitive to use

60% agree Android phones offer more opportunities for customisation

45% bought an Android handset because they run on open-source
What about apps and the Android Market?


Our participants are able to find the apps they need (and mostly for free) but get a little frustrated with Android Market. Some clear themes emerge:
The Android Market is not as well-established as the Apple App Store and therefore there is not necessarily as much available
On visiting the Android market they encounter the downside of open-source; "apps by anyone" leads to variable quality
It is not as well organised as it could be and improvements are sought in terms of categorisation and recommendations
"It's not the clearest of sites, it's overloaded, it tends to categorise things poorly…"
The more mixed views on the Android market are reflected in the quantitative results.
There is some positive feeling but users are somewhat less enthusiastic about Android Market than they are about their handsets:
45% of current Android users agree that Android Market offers the widest range of apps
43% agree that apps available for Android are better than those for other smartphones
What are the implications?
Android has established itself in the UK market and is set to grow in 2011.
Feedback from users is generally positive and word of mouth will be an important factor in the growth of Android over the coming year. Forums and communities will continue to be key battlefields.
Mobile marketers must have a multi-platform strategy which includes Android.
What's not yet clear is whether Android or iPhone will be bigger in sales terms in 2011 or indeed how successful Windows Phone 7 will be. These are all topics for future research.
However, one thing we have learnt from this research is that sales figures and market share mean nothing to the base of early adopters who remain fiercely loyal to their chosen operating system.
This piece was purely about the views of Android users and therefore doesn't make any judgements about competing platforms.
What is clear is that the market is crying out for some research which comprehensively compares the user experience across the range of smartphone platforms available (with a particular focus on Android vs. iOS). That has to be next on the agenda.
How we did our research
ICM's qualitative specialists filmed in-depth qualitative interviews amongst Android users to explore attitudes and issues.
Emerging key themes were then quantified using our nationally representative online omnibus survey.
Nearly 2,000 mobile phone users were surveyed in total, with a representative sub-sample of 119 current Android users.
Maurice Fyles, associate director at ICM Research