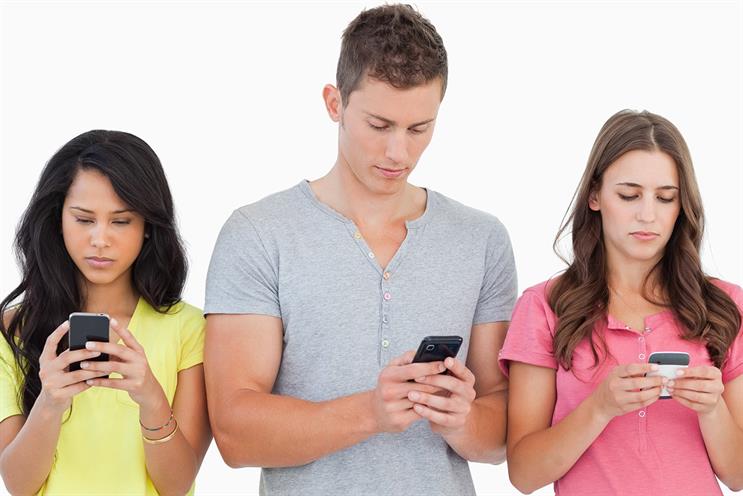 So it's official: for the first time, a survey has confirmed that smartphones are the primary device for going online instead of computers.
In its Communications Market Report 2015, telecoms regulator Ofcom said 60 per cent of consumers aged 16 to 24 now use a smartphone as their main device to access the web. This is compared to 31 per cent of 35- to 54-year-olds and 10 per cent of those aged over 55-years-old.
The report, published today, also said TV revenue generated £13.2 billion in 2014, an increase of 3.1 per cent. Broadcast TV ad revenue increased by 3.9 per cent overall to £3.8 billion.
Ad revenue also increased for commercial radio – up 17.3 per cent to £483 million, while digital advertising in the UK rose by 15 per cent to £7.2 billion last year. Digital now accounts for 39 per cent of all estimated UK adpend, the report said.
So what does mobile's rise to supremacy mean for the ad industry going forward? We asked some industry voices for their view.
Mark Holden, head of strategy at Arena Media:
This is a symbolic tipping point but clearly something that was inevitable – in fact we forecasted that August 2015 would be the point at which smartphones become our primary Internet access point. It's more fundamental to the media industry than one device becoming a new media or sales channel. We're still at the very early stages of delivering genuinely mobile-first advertising.
The exciting and unique thing about mobile is that it is connected to, and part of, every media channel in some way. So although we will inevitably hear about a disconnect between mobile Internet use and mobile advertising revenue, this is missing the point slightly: mobile still has the potential to drive new advertising and revenue opportunity for every media owner in the UK, and for every brand across every channel they use.
Allan Blair, head of strategy at Tribal Worldwide London:
The rise of online mobile is possibly the greatest asset and threat to brands since the internet was conceived. It is changing the dynamic between brands and consumers and it's forcing brands to be more transparent and customer focused. They have to be open and competitive on price, sensitive to customer needs and offer a great experience every time. Fail to do this and at best your customer will find out who can and jettison your brand for a better alternative; at worst they will get on Twitter and tell the world about it.
But, it's also an opportunity for brands too. Internet access isn't always through a browser on mobile – more often than not it's through a custom built app or a social channel. This gives brands the opportunity to create a relationship with their customer like never before; to understand their behaviour, likes and where they are; and to respond by pushing them contextually relevant content, offers and updates that make their experience greater and their relationship with the brand more timely and relevant.
James Poletti, head of digital strategy, RPM:
Hooray. We can finally stop predicting the 'year of mobile' and just get on with putting the small screen at the heart of all our work. This pretty astonishing news is well timed just as Google's development of what they call the 'Physical Web' - a protocol that will allow for mobile interactions with smart devices to take place without the need for individual app downloads – is starting to take purposeful shape.
With a future close at hand in which we can interact seamlessly via mobile with things in the world around us, we have to question our industry's preoccupation with traditional formats of advertising media and insist that we push forward into a world where communications are purposeful, personalised, useful and contextual.