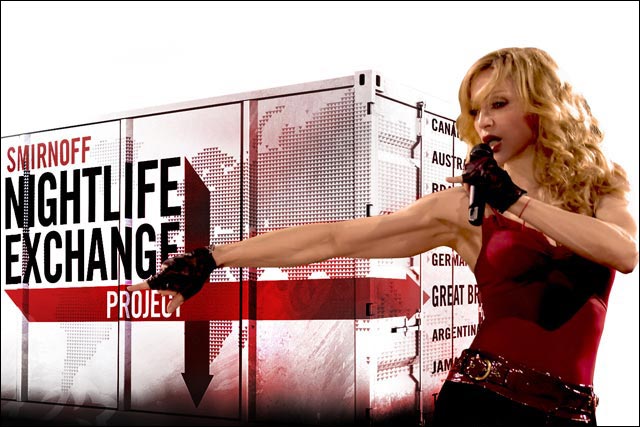 As part of the £6m drive, the Diageo-owned vodka brand is running an online dance competition. To enter, hopefuls must submit a 60-second dance video to Smirnoff or to Madonna's Facebook page.
Madonna will attend one of the selected Smirnoff Nightlife Exchange Project experiences, where finalists picked from the video contest will compete in front of her for the winning spot. The eventual winner may get the opportunity to join the pop singer on her next tour as one of her dancers.
Madonna said: "What attracted me to the Smirnoff Nightlife Exchange Project is the combination of participating in the celebration of nightlife around the world, and the opportunity to discover the world's best unknown dancers."
Revellers worldwide are invited to co-create and participate in the Smirnoff Nightlife Exchange Project by contributing ideas on what makes their local nightlife distinct in the categories of drinks, dance, fashion, music and places.
The most inspiring suggestions from each region will be captured online and then exchanged with another country in November.
By participating online, consumers will have the chance to win a place at one of the global events or experience another country's party at a Smirnoff Nightlife Exchange Project event in their own city.
Smirnoff will be working closely with its on-trade partners to create bespoke events in select outlets. In the off-trade, consumers will be able to engage with the project via in-store activity, promoting international ways of serving Smirnoff that they can try at home.
The 50 countries participating in the Smirnoff Nightlife Exchange Project are: Argentina; Australia; Belgium; Bolivia; Brazil; Bulgaria; Cameroon; Canada; Chile; China; Colombia; Costa Rica; Cyprus; Dominican Republic; Dubai; Ecuador; El Salvador; Germany; Ghana; Great Britain; Greece; Guatemala; India; Indonesia; Ireland; Israel; Italy; Jamaica; Japan; Kenya; Mexico; Netherlands; New Zealand; Nigeria; Norway; Panama; Paraguay; Peru; Poland; Romania; Serbia; South Africa; South Korea; Thailand; Trinidad; Turkey; Uruguay; US; Venezuela and Vietnam.