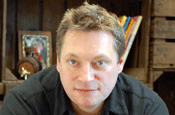 In his new position, he will relinquish his day-to-day involvement in the agency, freeing him up to pursue his own business interests.
However, he will still see Farm clients and advise on running the business.
Paul Jeffrey, the managing partner and a founding partner (who is also the agency's top planner), will now run the agency.
Gary Robinson and Lee Owen, the creative directors and also founding partners, and Emma Ward, the head of client services, form the rest of the senior management team.
Smith said: "Deciding to take a step back from something you have created has been a very hard decision. This new role is perfect for me. It allows me to get involved in other projects while retaining an involvement in Farm."
The agency was founded in September 1999 and picked up its first client, the £8 million internet bank smile.co.uk, six months later after a pitch against Abbott Mead Vickers BBDO, Fallon and Y&R. Today, its main clients include COI.