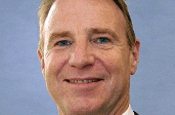 Smith joins the company, whose titles include New Scientist, Estates Gazette and Variety, on 1 January 2009 to ensure a seamless transition before Davis, 59, retires in March.

Smith left Taylor Woodrow in 2007 following its merger with George Wimpey.

His previous roles include chief executive of General Healthcare Group and chief executive officer at Exel Group for Europe, Middle East and Africa.

Smith will be paid an annual salary of £900,000, and stands to receive a bonus of three times his salary depending on the group's performance under his leadership.

Jan Hommen, Reed Elsevier's chairman, said: "Ian Smith is an outstanding business leader who will build on Reed Elsevier's strong foundations of global leadership positions, a growing digital presence and a dynamic management team.

"We are delighted to welcome him to the company to take Reed Elsevier through the next phase of our growth.

"Crispin Davis has been a tremendous leader of Reed Elsevier over the last nine years.

"He defined the strategy and transformed the business to make Reed Elsevier one of the leading digital professional information companies in the world.

"We are greatly in Crispin's debt and he leaves an impressive record on which to build."

Davis said: "Nine years ago we set out to transform Reed Elsevier into a leading digital information services company, focused on our customers and delivering a strong, consistent financial performance.

"With a high quality management team and talented people across the world, we have successfully done this and I am honoured to have led Reed Elsevier during this important phase of our development."

The move comes as Reed Elsevier tries to dispose of its business-to-business division, Reed Business Information, which it put up for sale in February.