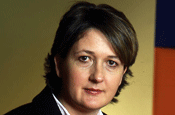 Smith, who has been in her current role since December 2005, will stay on with SMG as an executive director to work on initiatives including its people-development programme.

She will also take an advisory role to help manage Easterbrook's transition.

At the end of the year, she will move to a new group role that "matches her desire to spend more time with her family as well as broadening her management horizons", according to a statement from Starcom.

Easterbrook has been with Starcom for more than ten years in positions including client managing director for Starcom in the UK and operations director for Starcom MediaVest.

Smith said: "I love working at SMG and have really enjoyed the chief executive position, but I am now at the point where I wish to create more time to be both with my family and evolve my professional interests such as people development.

"This is an ideal time to hand the reins over to Stewart and I am very pleased that the group can accommodate this development."

Iain Jacob, the SMG chief executive EMEA, said: "I am exceptionally pleased that Stewart is taking up this new role. I have personally worked with him closely for ten years. He is an exceptional talent with much success under his belt."

Easterbrook said: "This is a particularly exciting time to move into the CEO role. "

Starcom lost its £30 million Cadbury business to PHD this week. In the past year, it has also lost its United Biscuits, Whitbread, Alfa Romeo and Discovery Networks accounts, although it did retain the £65 million BT media account, adding media planning to its remit after a pitch against Mediaedge:cia.

Last week, Publicis Groupe Media created a new group digital operation called VivaKi, led by Jack Klues, the Publicis chairman.