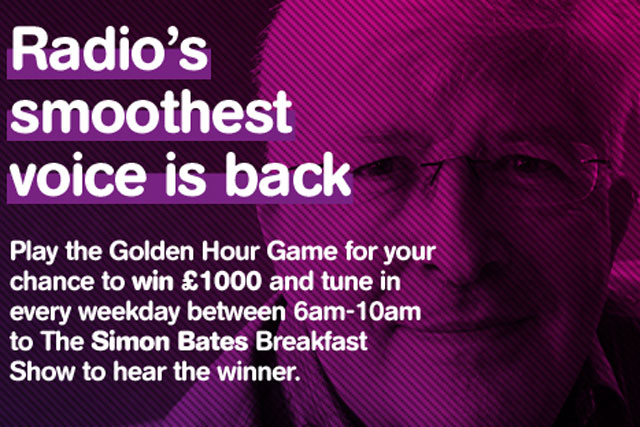 The digital push extends an earlier offline campaign featuring Bates that has been running since May in the North West and the Midlands.
The digital advertising campaign, created by digital agency Code Computerlove, will focus on attracting new listeners in London with a set of banner ads placed on Facebook and on national newspaper sites, including Mail Online, until the end of September.
The campaign promotes Bates' 'Golden Hour', an element of his breakfast show originally devised during the presenter's 16-year stint on Radio 1.
The banner ads invite online audiences to play the Golden Hour Game, a Facebook app offering the chance to win £1,000.
Jonathan Gillespie, GMG Radio's group commercial director, said, "Digital channels offer a major opportunity for Smooth Radio, as such a large number of Smooth Radio's target demographic is now online.
"Moreover, the 40- to 59-year-old audience is the fastest-growing demographic on Facebook, making social media the perfect platform for us to embrace."
Simon Bates became the first individual presenter for whom Smooth Radio had run a dedicated marketing push, when it launched an offline campaign, created by Arnold KLP, across the North West and the West Midlands last month.
Posters were plastered across buses, specifically targeting motorists, while the campaign also ran concurrently with TV ads, also created by Arnold KP, running in selected regions across the country.
Bates did not directly replace anyone when he took over the slot. Last year, GMG opted to turn its five Smooth Radio regional stations in England into a single national broadcaster.
The station broadcasts from Manchester and broadcasts on the national digital audio broadcasting (DAB) platform Digital One, along with Smooth's FM frequencies around the country.