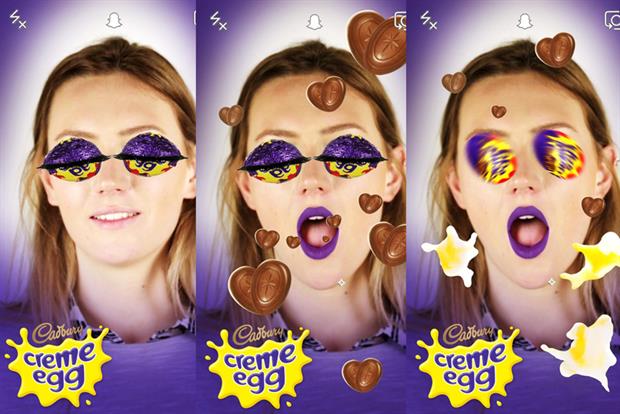 Snapchat adds augmented reality
Snapchat has added new 3D stickers that can be pinned to objects in a video and stick with them no matter how they move.
The augmented reality technology allows users to liven up their videos by doing thing things such as adding an emoji face to their pet as it walks around.
The new feature has rolled out on Android and will come later to iOS. Snapchat is adding augmented reality (AR) capabilities after poaching Eitan Pilipski, the VP of engineering at AR firm Vuforia.
Source: TechCrunch
Burberry warns of challenging year in luxury
Burberry has warned of "challenging" market conditions ahead for the luxury market and reported that sales fell 1% in the final six months of the year.
The retailer said slowing demand from US wholesale customers and "cautious" ordering by customers elsewhere was behind its downbeat outlook.
It is forecasting a 10% decline in sales at its wholesale business in the current financial year, while it believes profits for the year will be at the lower end of expectations.
Burberry chief executive Christopher Bailey said: "In an external environment that remains challenging for luxury, we continue to focus on reducing discretionary costs and are making good progress with developing enhanced future productivity and efficiency plans."
Source: BBC News
Starbucks makes controversial changes to loyalty app
Starbucks has controversially overhauled its popular My Starbucks loyalty programme by changing the way customers earn rewards.
Customers will now earn reward stars based on the amount of money they spend at Starbucks rather than the amount of visits. Customers previously earned one star per visit no matter how much money they spent.
The loyalty programme has also been rebranded as Starbucks Rewards and allows customers to earn two stars per dollar spent, receiving a reward after earning 125 stars.
Previously customers just needed to earn 12 stars, the equivalent of 12 visits, to get a free drink or food.
Source: Business Insider
BP boss faces backlash over 20% pay rise
BP's chief executive is expected to face a shareholder backlash today as they vote on a 20% rise in his pay package for a year where the company recorded its worst financial loss for 20 years.
Bob Dudley is facing criticism over a $19.6m (£13.8m) total remuneration package.
The oil giant has defended the increase as being in line with pay policies agreed by investors in 2014, and argues it was justified following an "excellent" operating performance.
Source: Sky News
Catch up with some of our longer reads...
As Marketing explores creativity and design in its April issue, editor Rachel Barnes discusses what creativity means in the digital age and why we should all embrace these "disruptive, messy, exciting and sometimes uncomfortable and challenging" times.
The queen of the high street discusses how advertising was the last thing on her mind when designing the retail experience.
Have a listen to the Marketing Mind podcast...
Domino's head of digital Nick Dutch, and Iris' head of planning Ben Essen join the podcast to talk about their experiences at SXSW, discussing everything from capitalism as a valid economic model to whether marketers can ever ethically use brainwave-reading headsets.